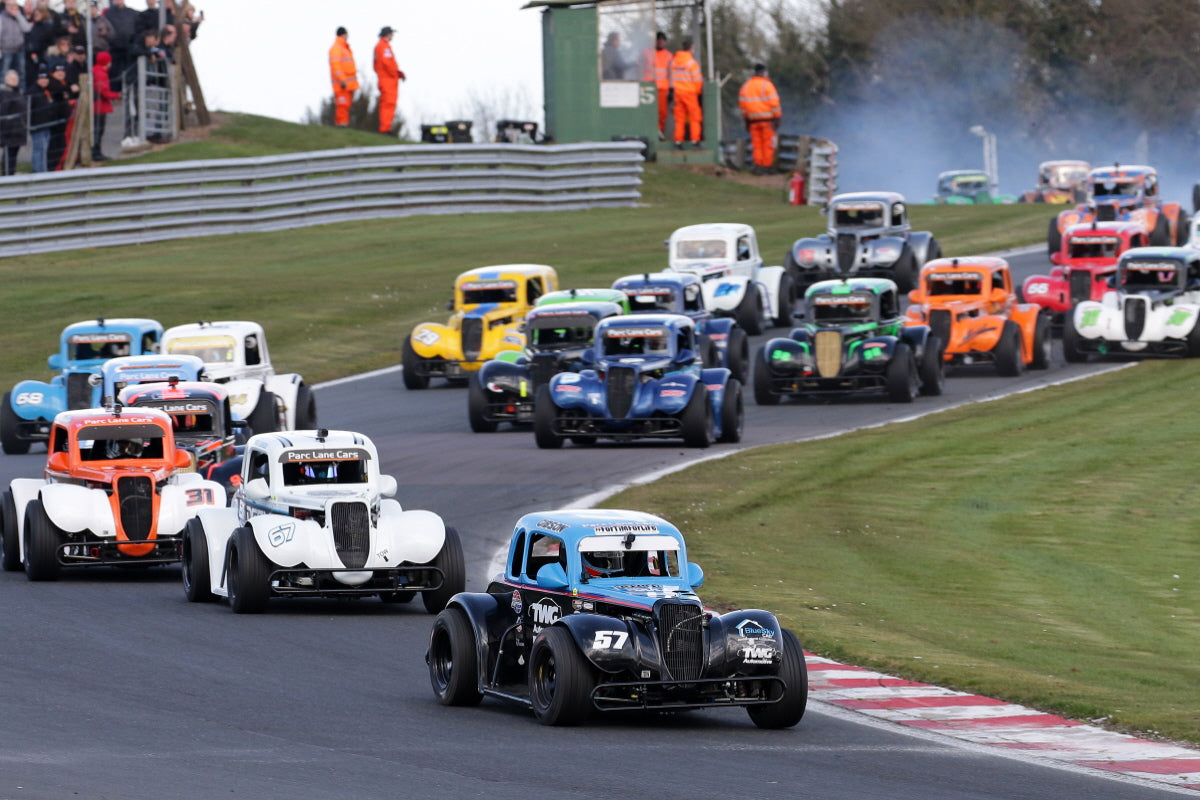 Legendary weekend at Oulton Park
History was made on two counts in the Carless Racing Fuels powered Legends Cars National Championship at Oulton Park on Saturday, 2nd April, during the opening event of the 2022 season – multiple champion John Mickel (Horsham) claimed his landmark 150th race win and Matt Isherwood (Mold) took his very first.
Isherwood starred in Heat One at the 2.7-mile International Circuit, during only his fourth race meeting in Legends Cars at the wheel of his 'Team Car'. In Heat Two, Mickel emerged from a terrific battle to chalk up victory number 150 in the National Championship.
Last year's champion Miles Rudman (Lichfield) earned the victory in the round one Final, turning around an otherwise challenging weekend which had been impacted by misfire issues. He headed home Will Gibson (Camberley) in the Final, another title contender to encounter dramas earlier in the day after an excursion in Heat One and misfire in Heat Two.
Marking the first visit of the Legends Cars to Oulton Park in four years, the cold one-day meeting at the picturesque Cheshire track produced typically fantastic wheel-to-wheel racing and the consistent Jack Parker (Wolverhampton) departed on Saturday evening with the early championship lead.
Other highlights included the Legends Cars debuts of Ben Higgins (Powys), who impressed with some superb overtaking – gaining no fewer than 12 positions in both of the Heats, and Luke Simmons (Lingfield) who was likewise very accomplished with his racecraft on his long circuit racing bow.
Oli Schlup (Cuckfield), who only made selected outings in 2021, passed more than 40 cars across the day's three encounters and secured a top 12 best in the Final – taking the chequered flag just behind his father Mike. Brothers Kieran Beaty (Hexham) and Mark Beaty (Gosforth), whose Parc Lane Cars business sponsors this year's TV coverage, raced to best finishes of ninth and 12th respectively.
The championship curtain-raiser also marked the first of a new 'greener' era of Legends Cars racing in the UK, with all cars utilising SulNOx fuel conditioner for the first time in moves to ensure action with less emissions.
Outstanding action gets season off to exciting start
From the outset on Saturday Isherwood was quick, having been second fastest to Marcus Pett (Boston) in qualifying. Drawing pole in the ballot for the Heat One grid, Isherwood led through Old Hall and although Rudman got by on lap two, Isherwood hit back at Cascades on lap three.
Leading by almost a second into lap four, the Safety Car was deployed soon after due to a couple of cars off the circuit. Racing resumed for a final lap dash on the sixth tour, with Isherwood controlling things from the front. Parker put together a supreme last lap, leaping from fifth to second, while Rudman took the flag in third.
Nathan Anthony (Horley), driving a previously rebuilt Se-Van with his 2022 challenger not yet ready, opened his season with a very competitive fourth place ahead of Mickel and Chris Brockhurst (Westgate).
Heat Two began with high drama for Rudman, pitting at the end of the formation lap with misfire problems, and Gibson suffered the same fate with misfire woes. Racing returnee Gary Whitelegg (Wilmslow) started on pole position but it didn't take long for multiple former champion Mickel to slice through to the front, heading Sean Smith (Marlow), 2020 champion Daniel Clark (Darras Hall), Andy Bird (Calne) and Parker.
Smith passed Mickel on lap two, with parker following him through, but Mickel battled back into the lead on the third tour and went on to take victory – his landmark 150th win in the Legends Cars National Championship – on lap six by just 0.1s seconds from Parker, Bird, Clark, Smith and Pett.
Gibson, due to all of his misfortune earlier in the day, began the round one Final from pole position and made a textbook launch at the rolling start. Storming into a huge lead of 1.7 seconds by the end of the opening tour, his lead was reduced on lap two by Chris Needham (Altrincham) before the Safety Car was then deployed due to a multi-car tangle at Island Bend, as well as oil on the track.
Soon after the race was red flagged and the action eventually resumed over a duration of six laps, this time Gibson had Needham glued to his rear bumper and the latter soon went by. Into lap two Needham still led, but with Gibson and Rudman swarming behind him, and it wasn't long before Rudman hit the front for the first time – holding the lead into lap three.
Into the second half of the race there was still nothing to separate the top three, but Rudman appeared to be in control and he duly took the victory by a much-enhanced margin of 3.4 seconds after a late dice between Gibson and Needham – the former taking second, Needham slipping to sixth after going wide at Lodge. Parker came through to finish third, from Pett and Smith.
Matt Isherwood – Rd1 Heat One Winner:
"It's only my fourth car racing meeting, so I'm really just getting into the swing of things and getting more confident in the car. Oulton Park has always been one of my favourite tracks, from when I raced Superkarts, so it's great to get my first win in cars under my belt here. The first is usually the hardest one, so hopefully there are more to come, but I'm really liking the car and the set-up."
John Mickel – Rd1 Heat Two Winner:
"It's great – you've got to be over the moon with something like 150 wins in the championship, I didn't realise we were that close to it actually. It's nice to get that and good to start the season with a win at the first round. Some of the leading contenders haven't had the best of starts, we've all had a bit of bad luck this weekend, so I think we're all pretty even after Oulton."
Miles Rudman – Rd1 Final Winner:
"No issues in that one, we seem to have found the problem we had earlier in the day – all I needed was the car working properly. It was great racing with Will [Gibson] and Chris [Needham], good and clean, and that's what you want. I'm glad to have been back up there battling with them, we needed this to end the weekend on a high."
Brands Hatch Indy Circuit in Kent will host rounds two and three of the 2022 Legends Cars National Championship season a fortnight from now, over the weekend 16th/17th April.
Provisional 2022 Legends Cars National Championship Points (after Rd1):
1st Jack Parker, 530pts; 2nd Marcus Pett, 440pts; 3rd Sean Smith, 410pts; 4th Miles Rudman, 375pts; 5th Steve Whitelegg, 370pts; 6th John Mickel, 360pts