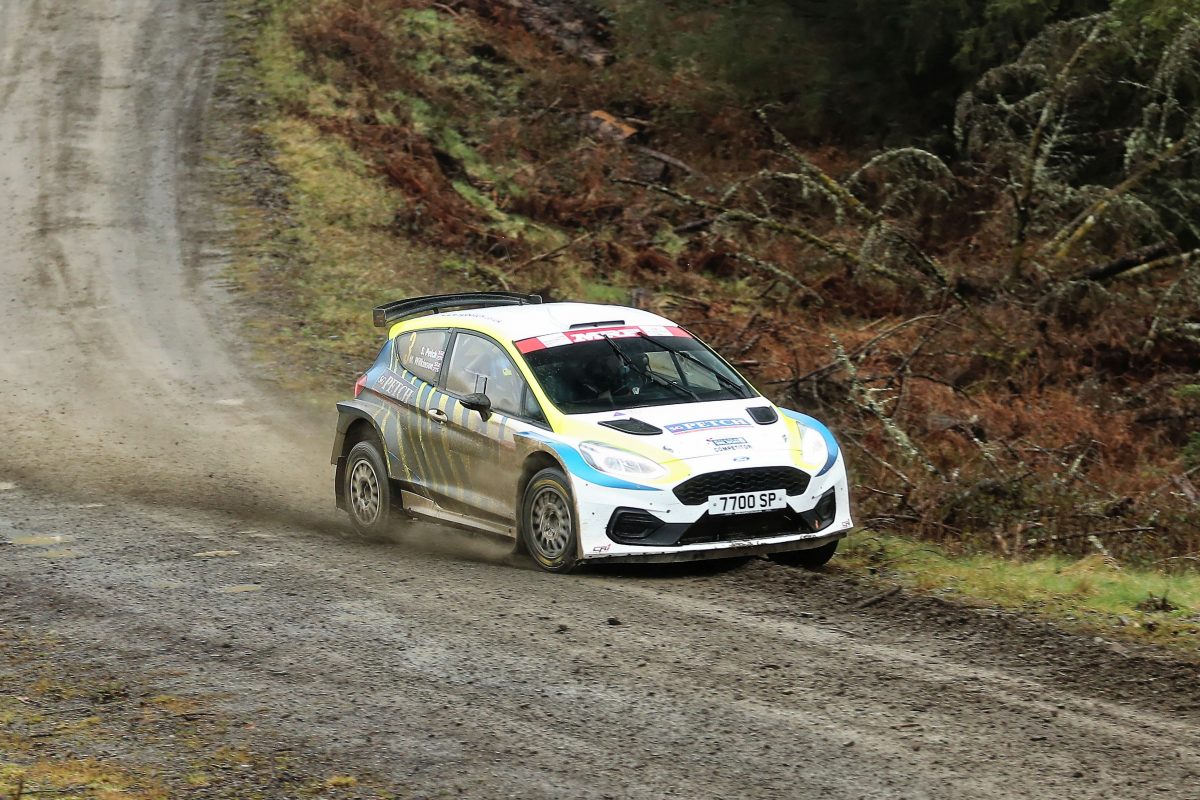 BTRDA Rallynuts Preview
Running as the final round of the 2021 MRF Tyres BTRDA Rally Series last November, the Rallynuts Stages returns to its traditional April date this year and prepares to welcome a bumper 150-car entry to the Royal Welsh Showground in Builth Wells.  Following their victory on the Malcolm Wilson Rally, Stephen Petch / Michael Wilkinson [main photo] in their Fiesta Rally2 head for mid Wales as MRF Tyres BTRDA Gold Star® Championship leaders. It goes without saying that they'll be hoping to consolidate their advantage but defending Rallynuts winners, Elliot Payne / Patrick Walsh (Fiesta Rally2), have yet to open their current account and will be aiming to steal a march on their rivals. Then there's Ian Bainbridge / Will Atkins, whose Fabia R5 was runner-up in the Lake District after setting a couple of FTDs during the day, and 
Perry Gardener / Jack Bowen (Fiesta R5) who arrived at the Penrith finish of the opening round a mere 8s behind the Skoda after 44 miles of stages….
                                                                                                                                             Perry Gardener / Jack Bowen >>>>>
A few crews have been doing some extra homework prior to the BTRDA Series' first trip of the year to Wales by contesting the recent non-Championship Rally North Wales – Matthew Hirst / Declan Dear (Fiesta R5) won it and Tom Llewellin's R5 Mitsubishi Mirage was 3rd.  So, when it comes to match fitness, they should each be on top of their game!… Richard Hill / Pat Cooper (Lancer EVO9) claimed the early-season advantage in Class B13 but, at the same time, won't need reminding that Russ Thompson / Steve Link (Lancer), Ian Joel / Graeme Wood (Escort Cosworth) and Pat Naylor / Ian Lawrence (Lancer) were all in close attendance by the finish. Likewise, they'll not be far apart as they leave Builth Wells at the start of Chapter 2….
For Ulsterman David Crossen's assault on the MRF Tyres BTRDA Silver Star® Championship, the journey from his home in Lisbane to the Malcolm Wilson Rally was one of the shortest of the season. However, it proved to be well worth the effort as, by the time he boarded the return ferry, he'd taken a class win by nearly a minute-and-a-half and his Escort was sitting atop the Championship points table! David's presence in Builth Wells for the Rallynuts Stages requires a considerably longer road trip, but the object of the exercise is exactly the same!
< David Crossen – MFT Tyres BTRDA Silver Star Championship leader
Rob Wright / Mark Fisher >>>>
Rob Wright / Mark Fisher (Escort Mk2) and Andy Davison / Tom Murphy (Talbot Sunbeam VXR), his nearest challengers in Cumbria, will be of a similar mind and, among others, they'll be joined by former Silver Star runner-up and Champion Ashley Davies / Sam Fordham in their Escort Mk2.
Leading Jordan Road Surfacing BTRDA Historic Cup driver Grant Inglis (Escort) and codriver Hannah McKillop each resume their campaigns and will be joined by the Escort Mk2s of defending Champions Paul Street / Ian Jones and newcomer James Lepley, codriven by Arwel Jenkins, who, through absence and retirement from the opening round, will be hoping to come away with a suitable haul of points to start the ball rolling!…
Yaniv Bar / Osian Owen (Fiesta) came up trumps in the BTRDA Rallye R2 Cup on the Malcolm Wilson Rally, while Billy Grew / Simon Rogers' efforts to emulate their success in the BTRDA Rallye R2 Junior Cup were thwarted by a broken gearbox which led to their Fiesta's retirement.
<<<<<   Yaniv Bar/Osian Owen (Fiesta R2) – BTRDA Rallye R2 Cup Leaders
Scott & David Sloan's Peugeot 208, which bore the scars of combat by the end of its high-speed run through the Lake District, still managed runner-up spot and now lines up with Lucy Wigley / Emma Cooper's Citroen C2 and Jonathan Jones / Jez Rogers' Fiesta in order to challenge the current leaders' status!
Following the retirement of several of the fancied runners in the Fuchs Lubricants BTRDA Bronze Star Championship last time out, Lewis Hooper's Rally First-spec. Nissan Micra 
grasped the opportunity to claim victory and, now, both car and driver will need to be on top form to produce a repeat performance!  Among those with the avowed intent of preventing them from achieving their goal, Dave & Toby Brick (Nova), Aaron Rix / Abi Haycock (Escort) and runners-up last time, Gary Scott / James Hedges (Proton Satria) will obviously have their work cut out in mid Wales.
Class 1400C is, thus far, the preserve of Nissan Micras, with Alfie Hammond and Richard Garnett showing the others the way home, while a broken engine mounting saw to it that the Ford Ka of Adrian & Matt Walk wouldn't be joining them on the finish ramp on that occasion. So, seconds out, Round 2….
Lewis Hooper obviously holds sway in the MRF Tyres BTRDA Rally First Cup but, at this early stage of the season, there's still plenty of time for that – and everything else! – to change between now and the end of October…
SPECTATORS : The first car leaves the Showground at 8.00am on the Saturday morning and full details on locations/pricing can be found at www.rallynutsrally.co.uk/spectators/
On-line Registration: BTRDA annual club membership is £30 which gives automatic eligibility to all BTRDA Rally Series and English Rally Championship events. The BTRDA Rally Series registration fee also includes registration for the Motorsport UK 2022 English Rally Championship and is £50 for Drivers and £20 for Co-drivers, BTRDA membership and Rally Championship registration is again FREE to new BTRDA members under the age of 25 on 1st Jan 2022 for their first year of registration.
Log in to the membership website www.btrdamembership.com  In all cases the first part of the process is to join BTRDA (British Trial & Rally Driver Association) and then register for the forest rally championship.
All photos © Kevin Money