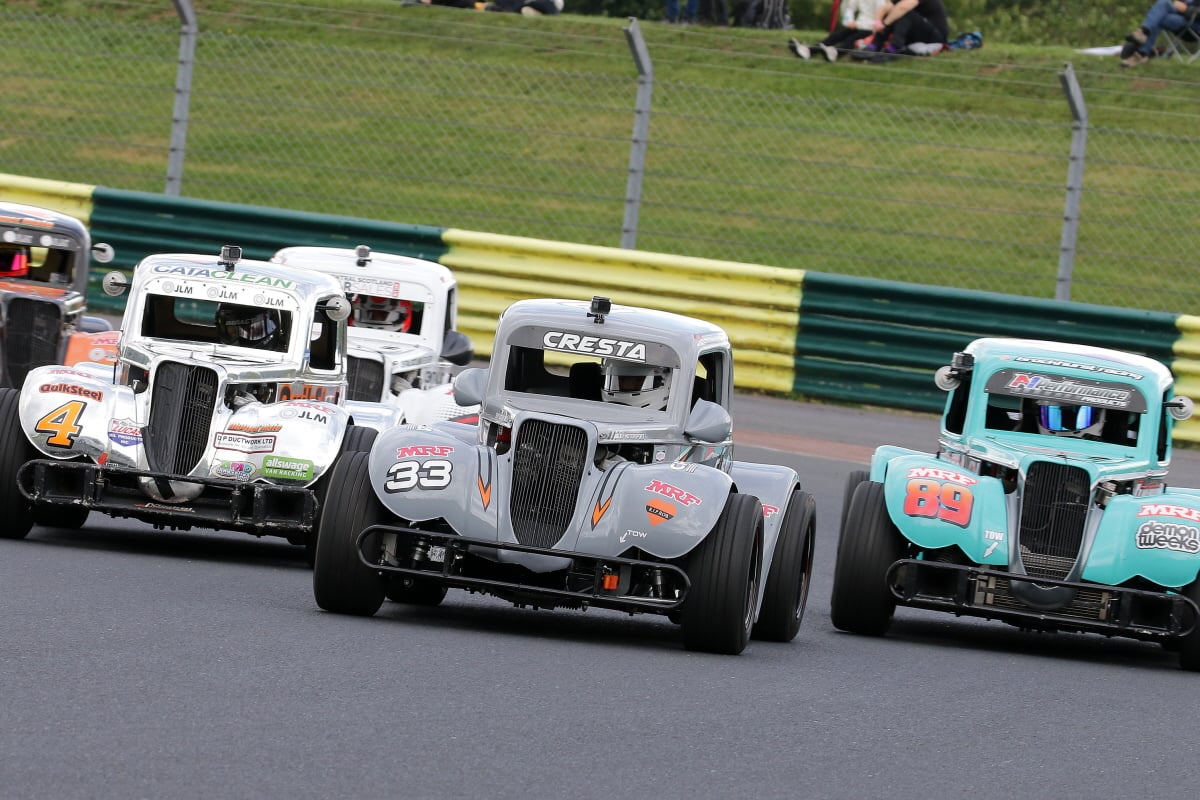 Legends set for Oulton Opener
Oulton Park International Circuit, one of the most picturesque and challenging circuits in the UK, will play host to the opening three races of the new Legends Cars National Championship season this weekend – where a huge grid of cars will begin the battle for the 2022 title.
Taking place on Saturday, 2nd April, the Legends Cars curtain-raiser promises to deliver outstanding action and limitless overtaking as the category makes a very welcome return to the Cheshire venue for the first time since the corresponding fixture four years ago.
Heading the entry is reigning and two-time champion Miles Rudman (Lichfield) and while he will almost certainly begin the season as favourite to successfully defend his crown, the competition is as strong as ever.
All of the main challengers from 2021 return, with five-time Legends Cars title winner John Mickel (Horsham) out to make it a remarkable super six title victories having ended last season as Vice-Champion. Will Gibson (Camberley), who was a career-best third in the standings last year, is always there or thereabouts and 2022 could well mark his best chance yet of winning the title.
Fellow mainstays Jack Parker (Wolverhampton) and Sean Smith (Marlow) are also long overdue championship success, and both are more than capable, while Steve Whitelegg (Bury) will again be mounting a strong bid – he's the most senior driver on the grid, but truly an evergreen racer!
Former champion Daniel Clark (Darras Hall), the 2020 victor, aims to return to the summit of the Legends Cars mountain and another ex-title winner, Rob Fountain (Boston), will also be on the grid which is packed with quality.
Last year's Rookie Champion Andy Bird (Calne), who ended an outstanding maiden season a very impressive seventh in the overall standings, will be a driver to watch and the battle to succeed him as the Rookie class winner is set to be terrific with some fantastic Legends Cars debutants.
Oli Schlup (Cuckfield) and Luke Simmons (Lingfield) will be embarking on their maiden campaigns, sharing the grid with their respective fathers Mike and Paul who are both seasoned campaigners, while James Newbery (Burgess Hill) will head into a full season with his striking #2Mater car.
Daniel Pooley (March), a two-time and reigning Grand Prix Midget Champion, Luke Ttakoushis (Ongar) and Ben Higgins (Powys) are also eligible for the Rookie Cup. The latter is the son of three-time British Rally Champion Mark Higgins, while Ttakoushis will actually share a 'Team Car' this year with former Legends Cars Champion Lee Fitzpatrick (Shefford).
Brothers Mark Beaty (Gosforth) and Kieran Beaty (Hexham) are back and their Parc Lane Cars business is sponsoring the return of television coverage for Legends Cars in 2022. The talent keeps on coming too, with drivers such as Nick Bridgeman (Baldock), Nathan Anthony (Horley), who races the only Se-Van in Legends Cars, and last year's Team Car Champion Chris Needham (Altrincham).
Siblings Charlie Budd (Henley-on-Thames) and Dan Budd (Didcot) will be on the grid once more, as will Chris Brockhurst (Westgate). Gary Whitelegg (Handforth), brother of Steve, returns to Legends Cars and racing in general this year for the first time since 2017 and gets the campaign underway at his 'home' track.
Jonty Norman (Wakefield), Tom Brown (Stevenage), Bill Read (Oldham) and Matt Isherwood, the latter driving the Team Car which will also be piloted this year by Gareth Sheridan, also help to ensure the grid is as varied and exciting as ever.
This Saturday's action will also mark the beginning of a new era for Legends Cars racing in the UK, the first outing where the cars will be running with SulNOx fuel conditioner as the championship forges ahead at the vanguard of moves to become cleaner and greener. Fuel partner Carless Racing Fuel have produce a new dedicated Hiperflo Super Plus SolNOx fuel. 
Looking ahead to round one, Legends Cars National Championship owner Phil Cooper said: "We've got a fantastic season in store with a superb packed grid, a huge array of talent throughout the entry and some exciting young Rookies new to Legends racing. It's great to be back at Oulton Park after a few years away, a track the drivers and spectators always enjoy.
"We're delighted to be commencing our partnership with SulNOx too, making moves to improve our green credentials is something of great importance and we're determined to help lead the way within motorsport where environmental impact is concerned. We're also excited to see the return of TV cameras trackside thanks to the support of Parc Lane Cars. All in all, it's set to be a great season."
Qualifying for the opening event of the 2022 Legends Cars National Championship is set to get underway at 08.30 this Saturday, 2nd April, with Heat One beginning at 10.00, Heat Two starting at 11.50 and the Final scheduled to commence at 16.00.
Live timing will be available HERE
Details of television highlights from round one at Oulton Park will be shared in due course on the Legends Cars social media channels.