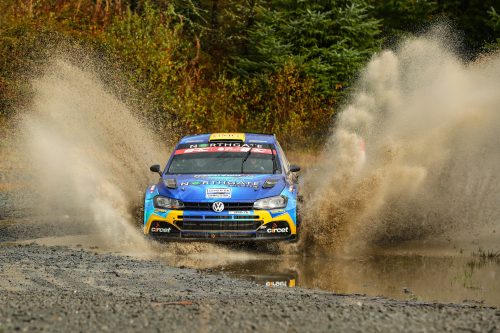 KELLY CLIMBS BRC LADDER WITH TOP-FLIGHT CAMPAIGN
The sensational rise of twenty-four-year-old Co. Donegal driver Eamonn Kelly over the past three years has been magical to watch and in 2023, the Irishman has a chance to break all modern-day British Rally Championship records.
After two blistering campaigns in the Junior British Rally Championship, Kelly will step into the top-drawer BRC1 category in 2023, driving the same Volkswagen Polo GTi R5 in which he took to a maiden overall BRC podium at the Cambrian Rally last season.
Kelly and co-driver Conor Mohan made their debut in the series in 2021, fighting until the final stage of the final round in Ulster to try and claim the coveted Junior BRC title. But that honour went to William Creighton, although there was no shame in runner-up spot that season.
Returning in 2022, Kelly aimed for redemption and duly delivered. Wins at the Jim Clark, Grampian and Ceredigion saw him clinch the all-important crown with two rounds to spare and with it, a supported drive in a round of the World Rally Championship behind the wheel of a Hyundai i20 N Rally2 in 2023.
That offered him the chance to wheel out his Volkswagen Polo R5 for the Cambrian and not only did his pace impress on his gravel debut in the machine, but he stuck it on the overall podium too.
Despite following in Creighton's footsteps and recently announcing a Junior World Rally Championship campaign, Kelly will return to the BRC in 2023, aiming to pick up where he left off in Wales last October.
"It feels amazing to have the opportunity to race a top car on top events" he says.
"We know that there's always a good strong pace here so it's an ideal place for me to get seat time in a top class competitive environment, giving my familiarity with the championship at this stage".
And it's all set to be a busy season for the progressive ace.
"With the JWRC being my priority, unfortunately I will have to miss two rounds which means any championship hopes are very slim. Therefore our aim is to work hard on each event we enter and simply aim to drive to my best ability. I know I still have a lot to learn at this level so it's a matter of using these events to pull me closer to the pace I want to achieve. If I can say I've done that by the final round I will be satisfied. I'm not sure how that will translate results wise but let's see".
Stepping from Rally4 into Rally2 can be a daunting prospect, but Kelly impressed on his gravel debut in the Polo last season. He is excited by the prospect ahead of him.
"I am approaching the season with an open mind and aiming to simply reduce the gap to the top competitors. You always want a benchmark as it shows you what's possible, so my ultimate hope is that I can achieve this. I don't feel as if I have anything to prove from the get-go, I just want to use this amazing opportunity to learn and get quicker, as we feel we have it in us".
Making his Junior WRC debut at Rally Sweden was a difficult baptism at the world's stage. But M-Sport's Fiesta Rally3 could well have given him the edge when jumping back into the Volkswagen.
"I may have only had one JWRC experience so far, and an interesting one at that, but I have no doubt it will shape me as a driver in terms of how I prepare for events, as it pushes you to leave no stone unturned. The frequency of being in a rally car for three to four days at high level competition will also improve our comfort and ability in all aspects of driving I'd imagine. It works both ways too, as this seat time fills the large gaps between WRC rounds, meaning I'm more less always working towards something, be it BRC or WRC".
"It is an amazing opportunity for me and I am very grateful".
With several new names coming to the fore in 2023, the form book is decidedly blank. But should Kelly take the title, he will be the first to secure back-to-back Junior and overall championship honours.