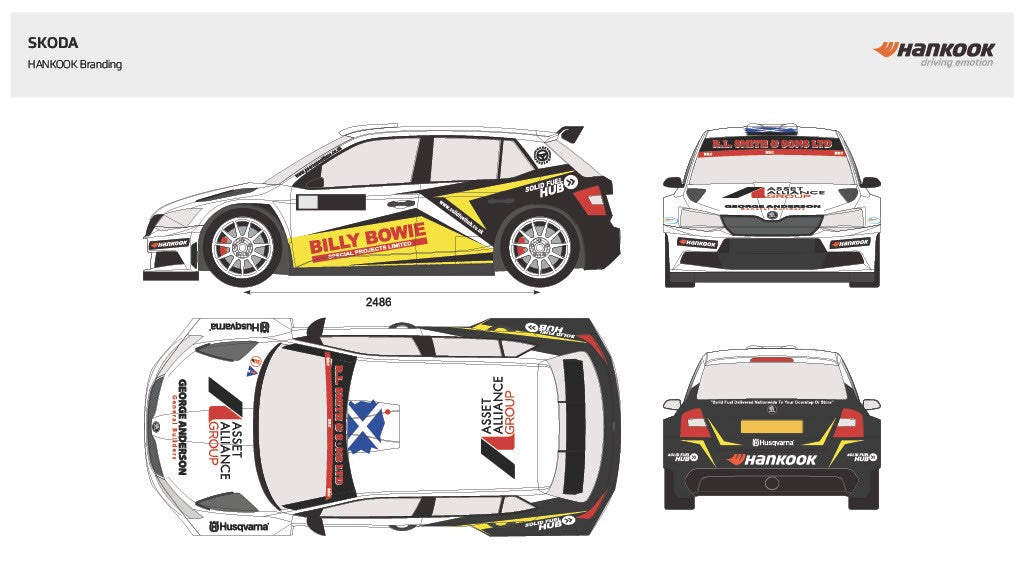 PEARSON PURSUES MAIDEN BRC WIN IN 2023
Pearson pursues maiden BRC win in 2023
Scottish rally driver Garry Pearson returns for another full-season assault on the British Rally Championship in 2023, aiming to build on the progress he made last year.
Fresh from winning an unprecedented four national titles in 2021, Pearson – 31 from the Scottish Borders town of Duns – made the step up to the British championship last season and displayed stage-winning pachi e to claim a top-five championship finish.
For 2023 Pearson remains in the cockpit of the same Skoda Fabia R5 he dominated the UK with in 2021, and will once again work together closely with Hankook to develop its range of tyres.
"We've got a long term plan with the British Rally Championship but we're still at the development stage," Pearson said."Obviously part of the year-one plan was to develop me and the tyre and we have made some good steps with that – we were fastest on Tarmac on the first stage of the Cambrian last year.
"We haven't done another Tarmac round since we've had those new releases of tyres, so obviously I'm quite excited about that for year two.
"Ultimately we're still working hard behind the scenes and away from the rallies to improve the grip we've got on both surfaces and I certainly want to be challenging at the front this year.
"I think we've got a realistic chance of being able to win when the conditions and the event suits us," Pearson added."I do think that's on the cards this year, but as everybody knows it takes a lot to string the whole championship together and although that's a long term objective, to try and win the championship, we're also realistic and we know who we're up against.
"To win everybody needs something to go their own way and that's not always easy."
Pearson will benefit from the expert guidance of a World Rally Championship winner in 2023, as he welcomes Dan Barritt into the co-drivers' seat from the second round onwards.
"Dan's obviously a massively experienced co-driver who's been at the highest level of the sport for years," Pearson enthused.
"I need to make improvements to my game if I want to be British champion and Dan was actually a part of the team last year in the background, so ultimately we came to an agreement for him to jump into the car and I'm delighted to have him onboard with me this year.
"We've been doing a bit of work through the close-season to improve my skills and that'll continue throughout the season."
Pearson is proud to be supported by several returning sponsors this year, including Hankook UK, Husqvarna and Solid Fuel Hub as well as Asset Alliance Group, George Anderson General Builders and R.L Smith & Sons who were with the team when they won the Scottish, BTRDA, Welsh and British National titles two years ago.
But Pearson is delighted to welcome returning partner Brick & Steel Construction, new partner Morris Lubricants and new main sponsor Billy Bowie Special Projects to the team.
"I'm really excited to welcome waste management specialists Billy Bowie Special Projects onboard for the year," Pearson said.
"I initially met Billy, Mandy and the family at the Grampian Rally last year and I actually took a couple of the family members and friends for a run in the car on the VIP test day.
"Later in the year, we managed to come to an agreement for 2023 for them to come onboard as a main sponsor meaning our Skoda now looks amazing with a strong flash of yellow!
"The Bowie family have been very, very good to us so far and I cannot wait to work closely with them throughout the season.
"John McClory and Brick & Steel Construction were last with me in 2015 when we rallied in France, so I'm super excited to have them back with us and I'm obviously delighted to have all of my existing sponsors from 2022 back onboard," Pearson added.
"Asset Alliance Group and George Anderson General Builders have been with me since 2016. This is my second full year with Hankook and Husqvarna backing and I'm delighted to retain R.L Smith & Sons and Solid Fuel Hub again for this year."