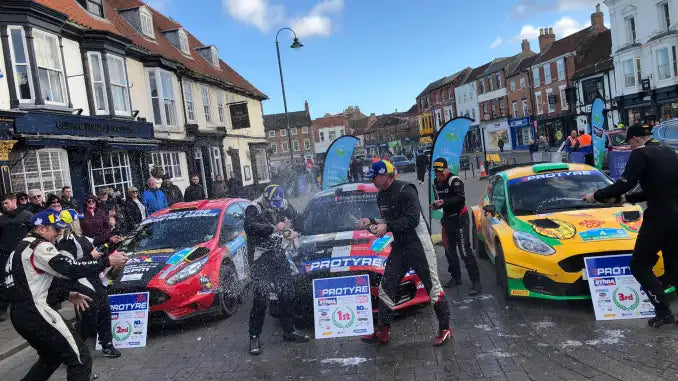 HENDERSON CLAIMS VICTORY AT EAST RIDING STAGES
Carless Racing Fuel powered David Henderson has taken the initial lead of the Protyre Motorsport UK Asphalt Rally Championship after winning the opening round of the 2023 sealed-surface series, the Reed Group East Riding Stages, in his Keco/PAR Petroleum-backed Ford Fiesta Rally2.
It was a titanic battle for victory, with the top three finishers covered by just 10 seconds.
And whilst Henderson only set one fastest stage time (out of eight), consistency paid dividends as he won the event by 3.6 seconds.
"It's a bit of a dream come true," admitted Henderson.
"It was a hard day, a really hard day. Road positioning was difficult for us. We were on slicks right from the start, so that made it quite hard for us, but we just had to see the loop through. We were in amongst it after that.
"We dropped into a ditch on the second to last stage and lost about five or six seconds. That closed the gap up a little bit too uncomfortably tight for the last stage, but we held on and it was okay."
David Wright made an impressive Protyre Asphalt Championship debut by finishing second in his Michelin-shod Ford Fiesta R5. Co-driven by series returnee Paula Swinscoe, Wright might well have won the event – had he not lost 20 seconds with a spin on SS2.
Elliot Payne is more used to gravel events, but he's no slouch on asphalt either as he put in a brilliant performance to finish third. Co-driven by Tom Woodburn, the Pirelli-shod Mango Go Ford Fiesta Rally2 driver changed the suspension set up and brakes for the afternoon loop and set three (out of four) fastest stage times to secure the final podium position.
James Ford/Neil Shanks had established a 12.1 second lead in their Citroën C3 Rally2 after SS2, and still led at half distance – despite surviving a big spin on SS3 and easing off on SS4. They continued their good run in the afternoon, eventually coming home fourth.
Robert Swann/Darren Garrod had a good run to fifth in their Ford Fiesta WRC – missing out on a top four position by just 0.4 seconds.
Kevin Davies put all his Welsh road rallying experience to good use on his first event in a Melvyn Evans Motorsport-prepared Cobra Hydraulics-backed Volkswagen Polo GTI R5. Co-driven by Owain Davies, the Carmarthen driver finished a very impressive sixth on his Protyre Asphalt debut.
Stephen Simpson/Patrick Walsh had a consistent run to seventh in their Tudor Glass Ford Fiesta Rally2, while John Stone/Laura Connell were eighth in their Legend Fires Volkswagen Polo GTI R5.
Neil Roskell had a difficult start to this year's campaign, with last year's Protyre Asphalt runner-up losing time with a spin and no stage mode on SS1 in his new ND Civils/Burdens/Witham Motorsport Ford Fiesta Rally2. Co-driven by Andrew Roughead, he was also having trouble warming the rear tyres in the cold conditions and had a good attempt at ploughing a field in SS3, but battled bravely on to finish ninth.
Simon Bowen/Craig Simkiss lost time on the morning loop when they put their Ford Fiesta S2000T into a ditch but continued to eventually complete the Protyre Asphalt top 10 after a fine afternoon's performance.
It was not a great start to the season for defending Protyre Asphalt champion Steve Wood. Co-driven on his occasion by Mark Glennerster, the Aberystwyth driver admitted to pushing a little too hard on the opening slippery stage and out-braked himself entering a chicane. His Trailhead Get Jerky-backed Ford Fiesta RS WRC bounced off a hay bale and backwards into a ditch. It only caused superficial damage, but it unfortunately also signalled instant retirement.
Defending class B13 champion Darren Atkinson continued from where he left off last year, winning the category in his Atkinsons Sandblasting/S&W Fabrication-backed Escort Mk2. Despite the dash not displaying what gear he was in, he and co-driver Mark Twiname were the first rear-wheel drive car home in a fantastic 11th overall.
John MacCrone/Stuart Loudon finished just 6.7 seconds behind in their Escort Mk2, after a great day-long battle with Atkinson. A poor tyre choice and trouble with the gearbox in the afternoon hampered them a little, but they were delighted to get a solid result and bring the car home in one piece.
Brad Cole/Jamie Vaughan were third in class in their Trick Motorsport-prepared Hydroline Solutions 2.5-litre Escort Mk2, after a good trouble-free run.
Gerry Fitzelle/Mark Mason (Escort Mk2) came home fourth in class, while Oliver Davies/Jack Bowen spent two minutes off the road on SS3 but got their Escort Mk2 home in fifth.
Andy Scott started his first major national championship as a driver in his Millington engine Ford Escort Mk2 and was co-driven by the man he used to navigate for, Ian Robertson. The Aberdeen driver, who hasn't got a service crew, came home sixth in class, while David Cluckie/Ealish Baxter completed the class B13 finishers in their BMW 325.
The slippery morning conditions suited Will Rowlands/Emyr Hall better than the drier afternoon surface, and they did enough early on to secure victory in the BTRDA Historic Asphalt Cup in their Ford Escort RS1800. They also take the early lead in the class index of performance-based Ford Escort Challenge.
Geoff Roberts/Ian Jones retired their Escort RS1800 four miles into SS2; there was a horrible noise coming from the axle and they decided to stop to prevent causing more damage. They did however win the prestigious Dynamic Fluids Best Presented Car award.
Joe McKeand/Charlotte McDowall won the highly competitive class B14 battle after a great drive in their Subaru Impreza.
William Hill/Richard Crozier had an intermittent flat-shift issue with their new Hills Ford Fiesta Rally3, which hampered them a bit as it got worse in the afternoon. They still managed to finish second in class B14, which was a very impressive result.
On the 40th anniversary year of the Asphalt Rally Championship, it was fitting that Mark Jasper/Don Whyatt brought out one of the series' most iconic cars – a Metro 6R4, which is almost 40 years old as well. Despite the car's ageing technology, they still managed to finish third in class.
Lee and Cole Hastings came home fourth in another Subaru Impreza, while Steven Ormond-Smith/Dafydd Evans had an eventful outing in their ORMCO Accounts/Manx Rally Sport-supported Mitsubishi Evo IX, which began with the exhaust coming loose (and then being ripped off) on the morning loop. The afternoon was going well, until a broken gear linkage on the final stage cost them positions – although the defending class B14 champions did reach the finish.
Mark Holmes/Mark Perryman started the event with intercom problems in their Ford Fiesta S2000, but hung on to finish sixth.
Gordon Cunningham/Charley Sayer-Payne survived an off on SS1 to come home seventh in class in their Mitsubishi Evo, one place ahead of Stephen Harvey/Andy Falconer who clattered into a bale chicane on SS2, but otherwise enjoyed a great run in their Subaru Impreza.
Adrian Spencer/Mark Hewitt weren't so lucky, having retired their RED Industries Subaru Impreza WRX with engine issues on SS2.
Reigning Northern Ireland Junior rally champion Sam Adams clinched victory in class B12, after he and co-driver Michael Johnston enjoyed a great run in their Pinto-engined Ford Escort Mk2.
Defending class B12 champions Jonathan Stepney/Aled Davies were flying early on in their 1.9-litre engined Griffiths/Gavin Griffiths Group-backed Peugeot 205 GTi, but it unfortunately ended before the end of the opening stage when they suffered an aeroplane-style crash – which thankfully they both walked away from unharmed.
Michael Harbour/Ian MacDougall won class B11 in their Escort Mk2, with Olly Hunter/Matt Daniels (ES Electrical Contractors-backed Escort Mk2) and Malcolm Boyd/Brian Stubbs (Escort Mk2) coming home second and third.
Also reaching the finish and scoring valuable early Protyre Asphalt class B11 points were Nick Heard/Oliver Mathison (Ginetta G40), Mick Quinn/Chris Walker (2-litre Renault Clio) and Geoff Glover/Keith Barker (RWD Vauxhall Astra Mk3).
Antony Allery/Richard Bonner had an early bath with retirement in their Salter Demolition Ford Escort RS, while Mark Booth/Callum Young were having a good run until the gearbox failed on their Escort on SS6.
Action from the East Riding Stages is available to view on the Special Stage TV Facebook page, with commentary from Mark James and Paul Woodford, plus special guest presenters Mark Kelly and James Williams.
Rounds 2 and 3 of the 2023 Protyre Motorsport UK Asphalt Rally Championship is the double header Manx National Rally on the Isle of Man (12/13 May).
Regulations and details on how to enter the 2023 Protyre Motorsport UK Asphalt Rally Championship are available at:
asphaltrallying.com.
East Riding Stages – top 10 registered 2023 Protyre Motorsport UK Asphalt Rally Championship finishers:
1. David Henderson/Chris Lees (Ford Fiesta Rally2)….39mins 12.0secs
2. David Wright/Paula Swinscoe (Ford Fiesta R5)….39mins 15.6secs
3. Elliot Payne/Tom Woodburn (Ford Fiesta Rally2)….39mins 22.0secs
4. James Ford/Neil Shanks (Citroën C3 Rally2)….39mins 38.3secs
5. Robert Swann/Darren Garrod (Ford Fiesta WRC)….39mins 38.7secs
6. Kevin Davies/Owain Davies (Volkswagen Polo GTI R5)….39mins 47.9secs
7. Stephen Simpson/Patrick Walsh (Ford Fiesta Rally2)….40mins 05.4secs
8. John Stone/Laura Connell (Volkswagen Polo GTI R5)….40mins 25.1secs
9. Neil Roskell/Andrew Roughead (Ford Fiesta Rally2)….40mins 46.7secs
10. Simon Bowen/Craig Simkiss (Ford Fiesta S2000T)….40mins 48.1secs
2023 Protyre Motorsport UK Asphalt Rally Championship – top 6 drivers' overall after Round 1:
1. David Henderson….30pts
2. David Wright .28pts
3. Elliot Payne….27pts
4. James Ford….26pts
5. Robert Swann….25pts
6. Kevin Davies….24pts