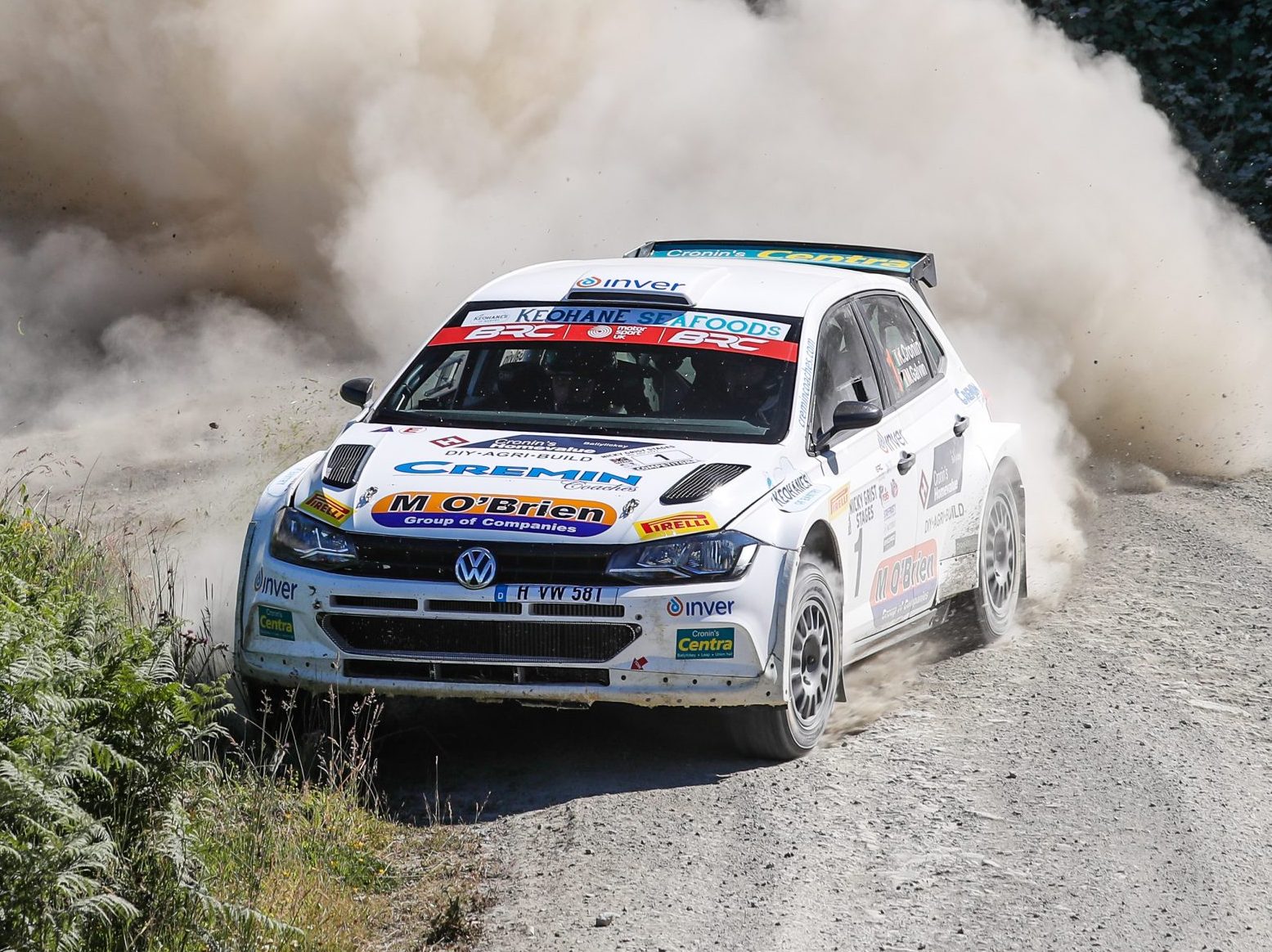 Cronin launches `drive for five` BRC comeback
Cronin launches `drive for five` BRC comeback
Saturday's Malcolm Wilson Rally in Cumbria's Lake District marks the start of the 2023 British Rally Championship season, the first of seven rounds in the series which will take place across England, Scotland, Wales, Northern Ireland and Belgium between now and October.  The field on Saturday will include West Cork driver, Keith Cronin, who returns to the BRC this year with the ambition of securing a record-equalling fifth title.  Cronin will once again partner with his long-time co-driver, Killarney's Mikie Galvin, and they will be in the same Volkswagen Polo GTi which took them to second place in the standings in 2002.
The Malcolm Wilson Rally is named after, and backed by, the supremo of M-Sport Ltd., which operates the Ford World Rally Team, and the rally Start will be at the company's base at Dovenby Hall, near Cockermouth.  Indeed, M-Sport drivers are the top two seeds for the event, with Frenchman, Adrian Fourmaux, carrying No. 1 and leading the field away in a Ford Fiesta Rally 2.  Fourmaux has registered for the BRC, and will be the first works pilot to challenge for championship points in many years.  The Malcolm Wilson Rally will also feature Greek-Belgian driver, Jourdan Serderidis, in the Rally 1 Ford Puma he campaigns on various round of the World Rally Championship, running at number 2.  It is likely to be the only competitive outing of a Rally 1 car on UK soil this year, and its presence is likely to significantly boost spectator numbers.  The Puma is not eligible for the British Championship, so Serderidis will be driving for event overall honours only.
Cronin's entry for the Malcolm Wilson Rally was submitted at the eleventh hour, and as a result he has been seeded at 38, but can be expected to be allowed run in the top ten on the road.  "It's all been a bit last minute really, up to a few days ago I wasn't sure if I'd be doing the rally", Cronin noted.   "Those of us who aren't professional competitors have commitments and responsibilities outside of rallying, these have to be looked after as well.  It's been fairly hectic work-wise in recent months, I haven't sat in a rally car since the Trackrod last September, but I'm glad now that everything is in place for Saturday", he added.  The four-time BRC champion also recognises the challenge that will be posed by Fourmaux:  "He's holding all the aces really, he's a World Championship driver, he's in a works car, and he actually won this event before, in 2020.  Three of the stages are in Greystoke forest, where M-Sport does a lot of its testing, so while Adrian may be French, he really has 'home advantage'.  We're not really sure yet how many BRC rounds he will be able to fit in around his World Championship schedule, if he does most of them then it will be hard to see beyond him for the title.  Other young drivers like James Williams and Elliott Payne have an extra year's experience now as well.  It won't be easy, but we'll take it event by event and we'll see how things progress."
Reflecting on his 2022 season, where he finished second in the overall standings to Osian Pryce, Cronin accepts that the outcome fell short of his ambitions: "The latter half of the year didn't go to plan, we had the crash on Rali Ceredigion and then an overshoot on the Trackrod Rally cost us any hope of the win and the chance to bring the championship battle to final round on the Cambrian.  There's definitely some unfinished business there for me," he concluded.
The Malcolm Wilson Rally crews have an early start on Saturday morning, with the first car due to leave M-Sport at 7am.  Four stages, Hobcarton, Comb, Wythop and Greystoke will be completed before the first Service.  Two stages follow mid-morning in Griezedale Forest, often part of Britain's World Championship round in the past, before the second Service, with two further runs through Greystoke rounding out the rally in the afternoon.  The Finish Ramp celebrations will take place in Penrith just after 4.30pm.
Keith Cronin and Mikie Galvin are supported by M O'Brien Group of Companies, Molson Group, Keohane Seafoods, Inver Energy, Cremin Coaches, Cronin's Homevalue Hardware, Cronin's Centra (Ballylickey, Leap and Union Hall), Westlink Inver Service Station and Michelin Tyres.  Their Volkswagen Polo GTi R5 is prepared and run by Tom Gahan Motorsport.