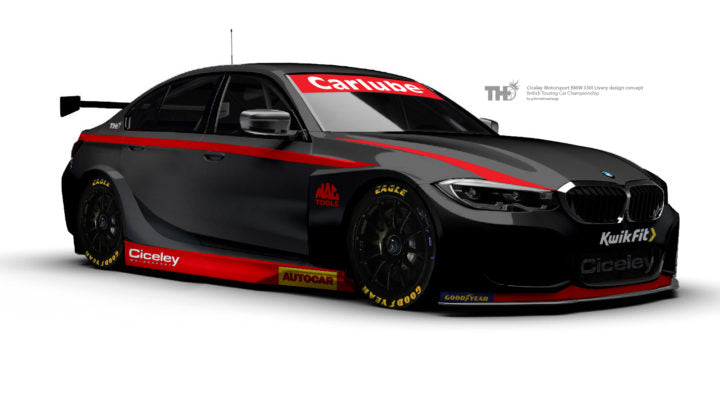 CICELEY MOTORSPORT MAKE BMW SWITCH
Lancashire-based Ciceley Motorsport has today (25 November) announced one of the most significant developments in its history after making the decision to run a pair of BMW 3 Series' in the 2021 Kwik Fit British Touring Car Championship.
The Carlube Triple R-backed outfit has campaigned the Mercedes A-Class with considerable success since 2014, but believes it is the right time to step up to multiple title-winning machinery.
Under the guidance of the manufacturer-backed West Surrey Racing, the new BMW 3 Series was first entered into the series for the 2019 BTCC season, and has since gone on to win five of the six major titles it has contested.
The car was part of the Drivers', Manufacturers' and Teams' title successes in its first campaign, and then won the latter two again this season.
After considering a number of different models and configurations, the engineering team at Ciceley Motorsport chose the German machine as its best option to challenge for Drivers' and Teams' honours in Britain's elite motorsport series.
Russell Morgan, Ciceley Motorsport Team Principal, said: "These are very exciting times for us all at Ciceley Motorsport, and we are delighted to be introducing the BMWs. This has been an incredibly hard decision, made even more difficult by the fantastic job our lead engineer Steve Farrell and Adam [Morgan] have done with the Mercedes this year. Our cars have been constantly improved and fastidiously maintained throughout their lifetime, and they are still eligible to run in the BTCC until 2023."
Adam Morgan, Ciceley Motorsport Driver, said: "We have to look to the future. The hybrid era of the BTCC will be upon us before we know it and we must, as a team, be ready for the next challenge. Although our philosophy as a team is to enjoy our racing, we definitely enjoy it more when we're winning! Next season will be yet another massive learning curve for us all, but we are still hungry for success. We now need to secure the services of a team-mate, who is able to complement the team and clinch the Drivers' and Teams' championships."
The team's title sponsors – Carlube Triple R and associate team partner Mac Tools – are also excited by this new and exciting chapter.
Peter Schofield, Tetrosyl Chairman, added: "It's fantastic to be part of this historical moment for Ciceley Motorsport as they move to the BMW 3 Series. We have enjoyed great success with the Mercedes this season, which has been a difficult year for us all. For Tetrosyl and Carlube Triple R, this exciting change mirrors our aspirations and the level of quality we demand as a company and a brand. We wish everyone in our team the very best both on and off the track in 2021."
The deal was concluded to purchase two new cars from multiple championship-winning squad WSR, led by the ultra-experienced and hugely successful Dick Bennetts.
Dick Bennetts, WSR Team Principal, said: "We're very pleased that Ciceley Motorsport have become our first customer for the BMW 330i M Sport and will run two cars in 2021. They are a professional team with a strong engineering mindset, so the WSR-designed-and-built cars should give them everything they need to become title challengers.
"Since the 3 Series first turned a wheel in late March last year, we've won five titles out of a possible six and scored 48 podiums from 57 races, which shows the quality of the base machinery."
Norman Burgess, Ciceley Motorsport Commercial Director, concluded: "Russell [Morgan] has made his mind up, we're going for it! He has listened to both Steve Farrell and Adam [Morgan] and they have all decided together that the BMW is the best way forward, even though we will be sad to see the Mercs go. Carlube Triple R and Mac Tools have supported and stood by us through these unprecedented times and it's imperative that we are in the best possible position to deliver them results, as well as repay Carlube Triple R for their unwavering belief in Ciceley Motorsport."
The BTCC are powered by Carless Hiperflo Racing Fuels.