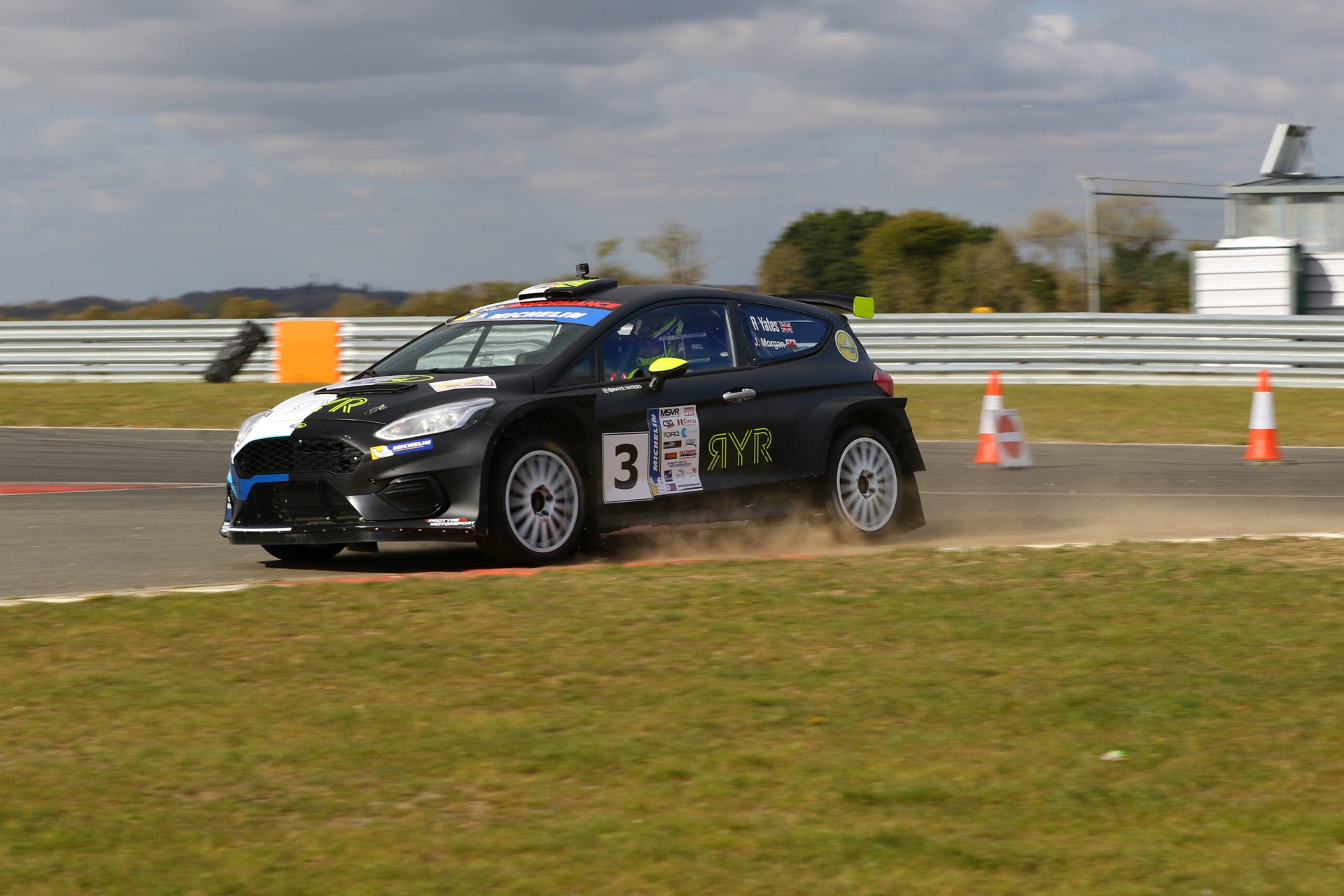 Yates Wins At Snetterton As MSNCRC Gets Back Underway
Rhys Yates battled to a fine Snetterton Stages victory as the Motorsport News Circuit Rally Championship finally made its return after four months of waiting.
The WRC-2 contingent joined a 97-strong entry list for the rescheduled second meeting of the season, and spent eight fast-paced stages in Norwich trading times with Donington winner, Frank Bird, in a scintillating contest won by the former by 14 seconds at the final check.
Bird arrived at the second meeting in a different car to what he won with at Donington, trading the Ford Focus WRC – in repairs at the moment – for an M-Sport prepared Fiesta R5, similar to the one driven by his rival, Yates.
They say it comes in threes, and that was the case int he first trio of stages as Yates checked off three fastest stage times over Bird – all by the margin of three seconds coincidentally – to open up a cushion of nine seconds as Bird eased his way into the new machine.
By the halfway stage, a moment at a tricky chicane had cost him in the high-energy contest, dropping last year's winner 15s adrift of Yates who made it four stage wins from four. From them on, the pair went blow for blow, Bird winning two stages to Yates' pair with both trading fastest times by a mere second on three occassions.
A final burst meant Bird and co-driver Jack Morton trimmed the final lead gap to 14s, but it was not enough to deny a faultless Yates from adding his first MNCRC victory in the Fiesta, alongside birthday boy James Morgan. Mark Kelly was a distant third place, but made no mstake in only his second rally in the new Fiesta R5 – a car run by 20 of the 97 entrants.
Rhys Yates: "It's been really good; we were probably both a bit rusty to start with – James was dropping his map about and I'm going for the handbrake instead sometimes – and it's James' big 3-0 birthday so it's good to get a win for that! It's a great event, a really well run evet and we've enjoyed it. When James is being quiet in the car you know you're doing well. It's been competitive and a really good battle. We've been pushed all the way and it was fast. It's good to be out, the car was mega so what can you complain about?"
Frank Bird: "We've had a good day and Rhys kept us honest all the time. I've had a lot of fun. It's been great to drive an R5 for the first time, and a big thanks to the team for adapting and working on the car ahead of Oulton Park. It is only the second rally car I've ever driven, and it's really nimble and good on the brakes, but the Focus is a great car too so hopefully we'll be seeing that again at some point. I'm missing her!"
Mark Kelly: "We're in good company, aren't we? We knew coming here that we would have our work cut out against the likes of Rhys and Frank, but that gap is more testament to those guys pushing hard and congratulations for them. We really enjoyed it. We are delighted to be third in that top 20, sharing it with class acts is why we're delighted. I think I was just nervous overall for some reason this morning, but it's because there are unknowns around here that I thought I hadn't mastered yet, but despite losing time through the gravel you improve and put a tick in the box. Onwards and upwards for Oulton Park."
Climbing to order throughout was another R5 convert, Elliot Payne, who battled his way up to fourth place and two places clear of his father Charles, also in a Fiesta R5. The two surrounded Kevin Procter's Fiesta, which escaped the hotly-contested scrap for sixth place.
That was mixed up dramatically on SS6 when Robert Swann stopped on circuit in a strong position, while punctures damaged Chris West and Andy Scott's chances. David Henderson's sublime drive netted seventh place overall in his Mk2 Escort, ahead of Steve Finch (Ford), the recovering West and Paul Wedgbury's Skodaru which rounded out the top 10.
Class Round-Up
Among the growing range of modern machinery, further down the classes it was two Mk2 Escort drivers that gave the old guard their spot in the limelight.
A fine display from David Henderson throughout the day resulted in a clean sweep of stage wins and the additional reward of seventh overall to seal a crushing Class D victory – over two minutes clear of his nearest rival Martin Hodgson. Josh Payton's Escort also dominated in Class C to add another win to his name, both he and Henderson claiming maximum MN points in their respective classes.
Often imperious in Class A, Christopher and Anthony Newton enjoyed a slice of fortune on this occasion as they grabbed the class honours at Snetterton.
The rapid Vauxhall Nova pair were in recovery mode as the Nissan Micra of Kasia Nicklin shot off into the early lead, only for mechanical gremlins to end those hopes with retirement on SS4. Newton inherited the lead, and doubled his win tally after a Donington victory in December.
The form man of Class B continued his steamroller. Chris Ruck's Opel Corsa again was the class of that particular group, doubling his win tally in a season where the title remains on his mind after a strong previous campaign.
Ryan Mone's Subaru Impreza narrowly pipped Stuart Cadman in a thrilling Class E1 finish by a mere two seconds, while overall winner Yates took Class E2, taking crucial MN points from Bird in his title charge. Returnee Aaron Rix guided his older Mk1 Escort to Class H success, although maximum MN points went to Terry Pankhurst's similar entry – finishing seven minutes adrift.
Results:
Rhys Yates/James Morgan – Ford Fiesta R5 – 50m35s
Frank Bird/Jack Morton – Fiesta R5 – +14s
Mark Kelly Neil Colman – Fiesta R5 – +1m28s
Elliot Payne/Cameron Fair – Ford Fiesta – +2m12s
Kevin Procter/Dave Bellerby – Ford Fiesta S2000T – +2m35s
Charles Payne/Carl Williamson – Ford Fiesta WRC – +2m42s
David Henderson/Chris Williams – Ford Escort Mk2 – +2m55s

 

Steve Finch/Sam Fordham – Fiesta R5 – +3m17s
Chris West/Keith Hounslow – Porsche 997 GT3 – +3m39s
Paul Wedgbury/Neil Dashfield – Skodaru Fabia – +3m42s
Class Winners: Yates/Morgan; Henderson/Williams; West/Hounslow; Josh Payton/Jamie Vaughan (Escort Mk2); Chris Ruck/Steve Harris (Opel Corsa S1600); Aaron Rix/Rob Cook (Ford Escort Mk1); Ryan Mone/Freddy Hewitt (Subaru Impreza); Christopher Newton/Anthony Newton (Vauxhall Nova).