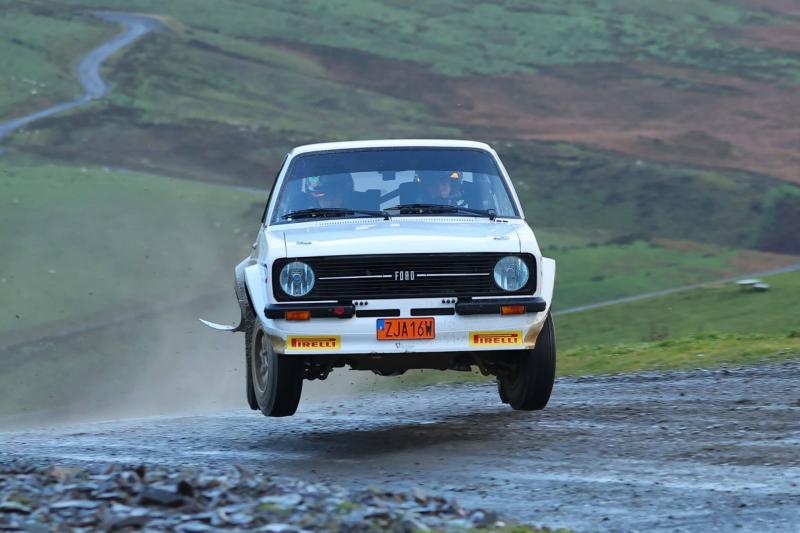 Oliver Solberg set to contest Roger Albert Clark Rally with Carless sustainable fuel
Fresh from securing Rally 2 honours in Rally Chile, rising rally star Oliver Solberg is entering this month's star-studded Roger Albert Clark Rally (23-27 November).
Harking back to the RAC Rallies of old, the five-day event traverses the country from its start in Carmarthen to the finish in Carlisle. The 350-mile competitive route will be the longest stage rally in the UK for more than 30 years. Furthering the throwback theme, entries are restricted to historic rally cars (all pre-1991) so Oliver is swapping his state-of-the-art Skoda Fabia RS for the hot seat in his father Petter's iconic Ford Escort RS1800.
Adding to the sense of history, Oliver's Escort will be looked after by Petter's former co-driver, Phil Mills, who runs his own rally preparation business in Powys – Viking Motorsport.
With an eye on the future as well as the past, Mills has been pioneering biofuels and entered the recent Rally Ceredigion driving an Escort Twin Cam running on Carless' latest generation Hiperflo ECO98 R70. Buoyed by that success, Oliver's Mark 2 RS1800 will run on the same biofuel at the Roger Albert Clark. The fuel offers a 50% saving on greenhouse gases when compared to regular fossil fuels.
Solberg's initiative is just the latest example of both rallying and historic motorsport embracing the environmental benefits presented by biofuels. The World Rally Championship was the first FIA series to run wholly sustainable fuel in its premium class. This was introduced at the same time as the hybrid-powered Rally1 category at the top of the 2022 season.
Oliver Solberg said: "I can tell you from my experience of competing in a factory Rally1 car, these things are awesome! And to know we have all that performance and carbon neutrality is amazing!
"Sustainability is key across all forms of motorsport, but rallying is the most relevant to the people in the street actually buying these cars. The road sections on rallies take us through towns and urban areas and it's a powerful message to remind people we're powered by a combination of bio-fuels and e-fuels – without a fossil fuel in sight! 
"The bio-fuel we're using on the Roger Albert Clark Rally is an exact replacement for a traditional fossil-based 98 octane petrol. It's amazing that is requires no changes to the fuel system or the tuning of the engine – you just pour it in and push the starter button! That's even the same for an engine made in the 1960s.
"With no drop in performance and far fewer emissions, it absolutely ticks all the boxes."
Following on from the successful introduction at Rali Ceredigion, Adrian Stuart, Head of Performance Fuels UK at Haltermann Carless, added. "The Roger Albert Clark rally presents a formidable challenge for both man and machine, and we are eager to demonstrate that our fuel not only reduces greenhouse gas emissions by 50%, but also excels in the most demanding of conditions."
Motorsport UK CEO Hugh Chambers welcomed the move: "As a sport we need to celebrate our heritage, but it is essential we show sensitivity to our impact on the environment. Sustainable fuels are one key way we can continue to enjoy these iconic cars while being responsible. It is wonderful to see younger talent carry forward our heritage, ensuring future generations can also see it in action."
Oliver will be looking to take over the family reins in the UK; Petter won Rally GB no fewer than four times with Subaru between 2002 and 2005. Twenty years ago, in 2003, he also sealed his World Championship title in Wales and then ended his World Championship career with an emotional WRC2 class victory on Wales Rally GB in 2019.
About Haltermann Carless
Haltermann Carless is a pioneer and leading international supplier of high-value hydrocarbon solutions in Mobility, Life Science, Industrial and Energy. With access to renewable resources from strategic partners, the company drives the development of sustainable products making a contributing to defossilisation and the reduction of greenhouse gas emissions. The company employs 500 people and has production sites in Germany, the UK, France and the USA. As a company of HCS Group, Haltermann Carless holds ISCC EU and ISCC PLUS certification and has been awarded Gold status by Ecovadis.
More information: www.haltermann-carless.com.
Images courtesy of Ben Lawrence and British Rally Media.