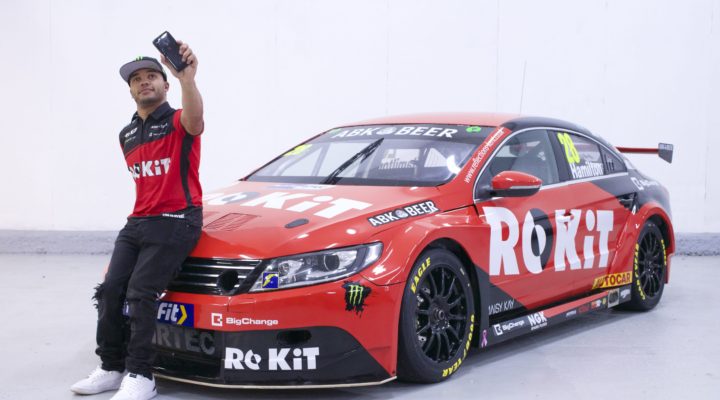 Nic Set To Rokit In The BTCC 2020
Team HARD. Racing has today (21 February) announced that Nic Hamilton will complete the squad's 2020 Kwik Fit British Touring Car Championship driver line up as its fourth and final driver.
Hamilton contested 24 rounds of the UK's premier motor racing series in 2019, competing in a Motorbase-run Ford Focus, having previously joined the championship for four events in 2015 as a guest entry. Looking ahead to 2020, there is great excitement for what a second BTCC campaign might bring as Hamilton takes to the wheel of a ROKiT Phones and ABK Beer sponsored Team HARD. Racing Volkswagen CC.
The team has been working hard to develop the Volkswagen CC, which demonstrated an improvement in pace during the second half of the 2019 season.  This improvement in performance was highlighted when the team took its first-ever BTCC win at Silverstone.
"I'm super excited to be with Team HARD. Racing for the 2020 season," said Hamilton. "Last year was so challenging for me. Coming close to facing a reality where my career might be over was really tough, but people stuck by me, kept me focused and upbeat and I'm now in a great place to start a new chapter behind the wheel. Team HARD. Racing is the most professional outfit I've worked with. The squad's tenacity, motivation and belief inspire me. The team deserves a great season from me and I'm going to give it my all.   
"The way these guys go about things in preparing the car and energising the team is inspiring; it cultivates such a great atmosphere from the factory to the pit lane.  They help give me such enthusiasm for the season ahead and having ROKiT Phones and ABK Beer as partners, once again, is tremendous as they are brands with a passion to be the best in their industry, something that really resonates with me. Last year they stuck by me and acted with such integrity.  I'm proud to represent them and be a part of their success, and more than anything I'm grateful for their continued support."
"I'm delighted that Nic has chosen to join the team for the 2020 season," said Team HARD. Racing's Managing Director, Tony Gilham. "His determination and drive to succeed has really lifted the whole team as we prepare three brand new Volkswagen CCs. Nic showed really encouraging signs in the series last season and his performance in the early laps of the opening round at Brands Hatch really caught my eye.
"This is the first year in the team's history that we are going to Spain for testing and I couldn't be more excited. A solid stint in the new Volkswagen CC will really benefit Nic both on and off-track as he settles into a new and very different team. I'm expecting Nic to learn a lot from our returning drivers as we look to move further up the grid in 2020."
Hamilton's Volkswagen CC is modified to allow him to compete with cerebral palsy. The car in its striking new ROKiT red livery will be heading to Spain for an intense test schedule alongside the team's other two CCs driven by Jack Goff and Mike Bushell, ahead of the series' official test day at Silverstone on 17 March.
The BTCC control fuel is supplied by Carless Racing Fuels