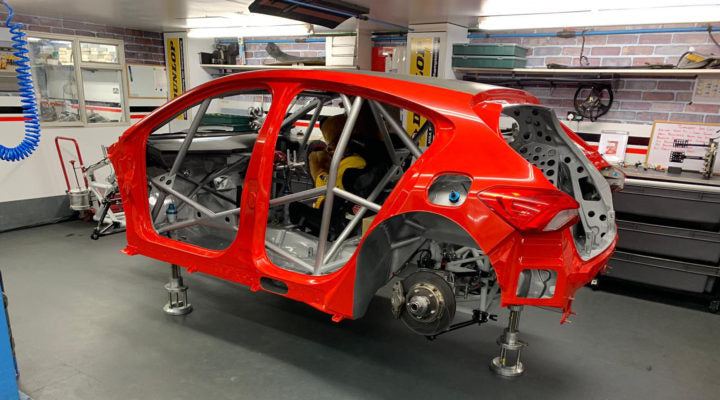 Motorbase Introduce New Focus For 2020
The 2020 Kwik Fit British Touring Car Championship will see a fresh look from Motorbase Performance with the introduction of the fourth-generation Ford Focus. The Kent-based squad is putting the finishing touches to the first of its new machines and will be ready to hit the track and begin testing in the next few weeks.
In what David Bartrum hopes will be a watershed year, the team boss has reflected on a challenging 2019 season and has set about ramping up his targets for 2020.
"Making a move to a new car for the BTCC is not a decision you can take lightly," said Bartrum. "It's an expensive exercise and one which you need to get right from the off. This is a more difficult challenge as an independent team.
"Motorbase is one of very few teams who have taken on this task in NGTC-spec and built our own cars without an affiliation with a manufacturer. We made our debut with our in-house built Focus back in 2011 at Snetterton. Now we're taking on the daunting task of designing and building our own new cars, once again without the support of the manufacturer. For 2020, we've chosen to continue with the Ford Focus but in the style of the all-new fourth generation Focus.
"We had great seasons in 2016 and 2018 with our Ford Focus so we were confident in the car in 2019 but it just wasn't to be. One thing Motorbase has never done and will never do is be content with not winning, so something had to change. The chassis design of the 2019 car was fundamentally in its eighth year – although the chassis themselves were much newer. There has been constant evolution of the cars in that time, but you couldn't get away from the fact it was getting old and our competition were mostly new cars. With Honda, BMW and Toyota bringing new cars to the grid in recent years, we had fallen behind. So, we started looking at a replacement for 2020 quite early last year."
Last season's single victory for Tom Chilton at Croft was taken with the hatchback, but it failed to sparkle elsewhere. Whilst its element clearly lay on a damp circuit, the long-in-the-tooth chassis showed its age at other venues.
The choice of car was seriously considered, but Motorbase's long relationship with the Blue Oval was too strong a pull for the operation to switch.
"Despite our 10 years running the Fords we don't have an official relationship with the manufacturer itself so, from the outside, there is no real reason why we would go with Ford again," concluded Bartrum. "Ford has, however, had the new car out for over a year now so we started to evaluate the chassis. The new Focus is far from just a minor upgrade. Underneath the skin, it seems to be an ideal fit for the BTCC. It has an extremely different chassis with some very advanced approaches to the design.
"The new car has obviously got a few years on its predecessor and benefits from a few more years of development and understanding. The base car is a decent step on and hopefully, this will show in the new car.
"We received the first bodyshell last week and it was painted over the weekend ready for us to get on with the long-awaited build of our newest, most exciting and most difficult challenges to date. The car looks stunning in its new colours. The guys last week were all like expectant parents and that's just for the bodyshell, who knows what we'll all be like when it comes to firing it up and running it on track for the first time. On paper and in it all theory looks fantastic, we have two very excited drivers who I hope to give the best car on the grid this season. It's going to be a difficult couple of months ahead getting everything ready but a challenge we're up for."
Driver Ollie Jackson will be joined at the team by reigning Independents' Trophy winner Rory Butcher, and an as-yet-unnamed third driver.
The BTCC control race fuel is supplied by Carless Racing Fuels.