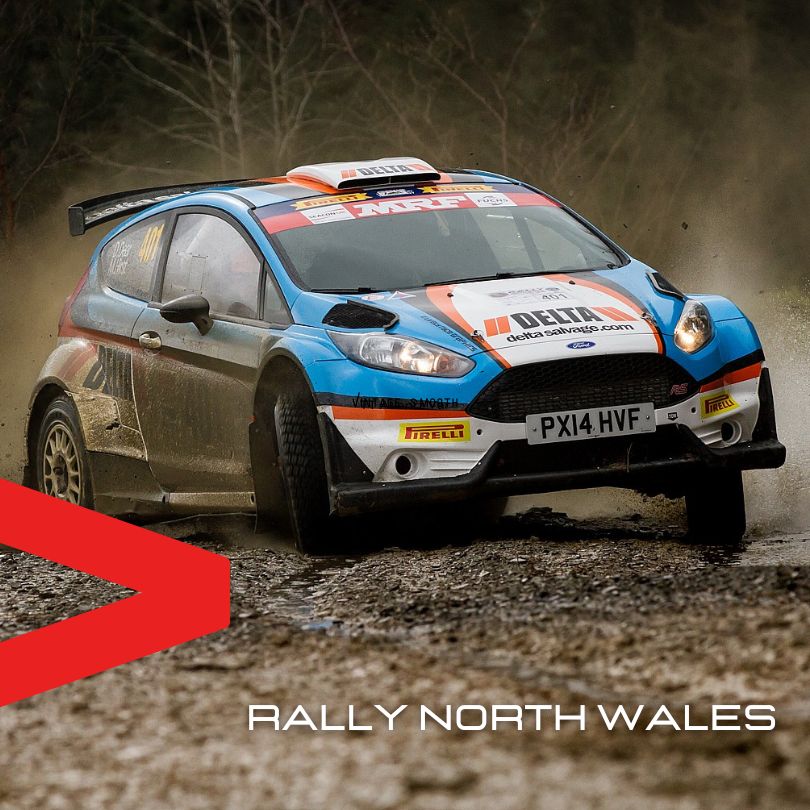 HIRST MAKES FLYING START TO WELSH RALLY CHAMPIONSHIP DEFENCE
Vital Equipment fuelled Matthew Hirst and Declan Dear made a flying start to the defence of their Motorsport UK Pirelli Welsh Rally Championship title by winning the opening round of the 2023 series, the Get Jerky Rally North Wales (Saturday 25 March).
Using a new Pirelli tyre compound to excellent effect, especially in the morning's wet and muddy conditions, the 2019 and 2022 champions established a healthy lead after the first loop of four stages through Dyfnant, Gartheiniog, Big Ray and Dyfi forests, despite admitting to a few moments in their Delta Salvage Ford Fiesta R5. They then extended their advantage over the afternoon's repeat run through the stages to a very impressive 3min 39sec winning margin.
It was the third time that they had won Rally North Wales - and both previous victories have led to them claiming the Welsh title!
"When you've built up a nice gap at the top of the leaderboard by the middle of the event it's yours to lose from then on, so we're pleased to have reached the finish here in Welshpool's town centre," said Hirst.
"We underestimated the grip levels on the opening stage and then had a couple of moments when we were pushing after that, but everything has gone really well all day."
Without taking anything away from Hirst's very impressive performance, his big winning margin was helped by a number of his main rivals failing to reach the finish.
Gavin Edwards had brake fade right from the start in his Vaynol Plumbing Ford Fiesta R5. The problem got progressively worse during each stage, leaving the Caernarfon driver will little confidence in the car. He and co-driver Caron Tomlinson managed to survive the first loop of stages but retired the car at the mid-day service halt in Dolgellau.
Jordan and Paul Hone were two seconds quicker than Hirst/Dear on the opening stage, but their lead was short-lived as they retired their Premier Car Parks Ford Fiesta R5 in SS3.
Tommi Meadows had never driven a four-wheel drive car before the morning of the event and started well in his Seacon UK Subaru Impreza. Unfortunately, a puncture on a road section stopped him and co-driver Laura Cooledge's progress in the afternoon. Steve Hollis/Tim Currie got no further than SS2 in their Volkswagen Golf R, while Paul Walker/Geraint Thomas didn't start after a gearbox issue with their Green Paw Subaru Impreza in pre-event testing.
Even some of the 4WD crews that did finish lost time with problems. Daniel Moss/Samuel Davies broke a rear driveshaft on SS4 in their pink Hurst Haylage Mitsubishi Evo 10, Peter Baylis/Paul Godden had a misfire for the first three stages in their Artificial Lawn Company Mitsubishi Evo 9 (cured then they discovered a switch that had been knocked), Colin Minton/Bonnie Papper suffered clutch problems in their Ignition Motorsport Ford Fiesta R5 on SS2, and David Tomlin/Keith Ashley collected a rear puncture in their Axon Ford Fiesta R5 on SS2. Having changed the wheel after the stage, they were now running 10 cars lower than where they started and caught a car on SS3.
Simon Rogers (ably co-driven by late replacement Jack Bowen) had an anti-lag issue with his MacWhirter Motorsport-prepared Mitsubishi Evo6 in the morning - but then launched a magnificent fightback to regain all the positions he'd lost. His pace over the afternoon loop of stages was rewarded with a fourth place Pirelli Welsh points finish.
Martyn Andrews, pictured below, had a "fantastic day" in his Opie Oils Subaru Impreza. Co-driven by Steve Greenhill, the Welwyn Garden City driver picked up sixth placed points and also leads the Welsh Challenge category.
Wug Utting/Bob Stokoe finished just two seconds behind in their Subaru Impreza.
Keith Jones made a successful return to rallying in his Grooms Garage Subaru Impreza, which was fitted with a new engine and gearbox. The Newtown-based driver had a few overheating issues in the morning, but together with Sion Williams he flew in the afternoon - ending the event with an impressive final stage push.
Colin Griffiths quickly got to grips with his new Subaru Impreza STI, which was his first event in a four-wheel drive, left-hand drive, and dog gearbox car. The car's engine initially refused to fire up at the start of SS1, but after that small drama he and co-driver Sion Rowlands got quicker and quicker as the event progressed.
There was a very familiar car running last on the road - the Subaru Impreza that Charlie Campbell has purchased two weeks before from Pirelli Welsh frontrunner John Caine. The Edinburgh driver was partnered by 16-year old Brecon navigator Sam Weller, who was contesting his 35th rally and his first multi-venue stage event. It might have been dark and largely deserted in Welshpool when they arrived at the final control, but it was a tremendous effort and an excellent performance nonetheless.
It was the hard charging rear-wheel drive crews that were the stars of Rally North Wales, for despite heavy overnight rain they were still able to find an awful lot of grip and use their power to very good effect.
Not only did Robert Gough score top points in the Restruct Welsh Historic W9 class, the Ludlow driver also took home second placed Pirelli Welsh points in the overall driver standings. It hadn't been plane-sailing for him and co-driver Paul Morris either, for they had starter motor failure and hydraulic fluid leaking onto the clutch and brake pedals in the morning and wrong tyres in the afternoon. But despite this, they scored a truly magnificent overall result.
Richard Jordan/James Gratton-Smith finished 12 seconds behind Gough in their CarrPrep Allroads Asphalt/Shell Oils Ford Escort Mk2 - and runners-up in class W9.
Rudi Lancaster/Guy Weaver lost 20 seconds with a puncture towards the end of SS4 but fought hard in their Woolacombe Holiday Parks Escort RS1800 Mk2 to finish third in class W9, while Alan Walker/John Conner were a fine fourth in class in their JWC Financial Solutions Ford Escort Mk2.
On his first rally in these forests, James Lepley had a couple of early spins in his Esso-backed Ford Escort Mk2 and lost around a minute in total as the engine stalled and wouldn't restart. He and co-driver Simon Jones enjoyed a good afternoon and not only finished fifth in class W9, but the Newark driver takes the early lead in the OnThePaceNote supported Welsh Junior category.
There was a fierce family battle in the Welsh Juniors between the Presteigne Tyre Services supported Ford Fiesta ST driving brothers Callum and Liam Griffiths. Both had great runs, although this time it was Callum (co-driven by William Lewis) who finished ahead of Liam (co-driven by Daniel James).
Jonathan Brace/Paul Spooner had a great day in their Dave Jenkins Motorsport-built in their Brace's Bakery Ford Escort RS1600 Mk1. Softer tyres in the afternoon improved things even more, as the Blackwood driver won the Historic class W8.
Andrew Stokes/Jonny Tad Evans were also pushing hard in their Ford Escort and finished a trouble-free second, with Gary Smith/Clive Jones making it a trio on Mk1s on the W8 podium.
Brynmor Pierce/Matt Baddeley won the Historic class W7 in their Peugeot 309 GTi, despite not having a working intercom for the entire event.
Ben and Steven Smith started cautiously as their Amigos-backed Ford Escort RS2000 Mk1 was pulling to the left under braking, making it especially tricky on right hand corners. The Eversholt son and father team had a good push on the final stage and won Historic class W6.
On his 600th rally start (in a rallying career that started in 1969 and spans seven decade and 54 years) St. Clears co-driver Ryland James guided Gareth Lewis (Carmarthen) to second in class W6 in their Ford Escort RS2000 Mk1.
Having done a lot of work to his Talbot Sunbeam over the winter, Bala's Julian Birley said the car was the best it has ever been as he and co-driver Emyr Hall romped home to Historic class W5 victory.
As well as the Historic category trophies, the registered crews that finish in the top three of each Historic class at the end of the season will be put forward for the David Stokes Historic Challenge award for drivers and the Guy Weaver award for co-drivers.
Defending Hockly Motorsport-supported Welsh 2WD champions Boyd Kershaw/Keegan Rees said it had been a rally of two halves in their Flying Kiwi Ford Escort Mk2. The morning had been interrupted with sequential gear down shift problems which had really unsettled their rhythm, while the afternoon loop was much better. So much better in fact, that they managed to win the Welsh 2WD category.
Iwan Roberts Jnr. lost the brakes on his Roberts of Ffestiniog Ford Escort G3 on the opening stage. It didn't get much better on SS2, when the car lost oil pressure meaning that for the rest of the event he dare not rev the engine over 6,000rpm. He and co-driver Daniel Jones still reached the finish to score valuable third place Welsh 2WD points.
Tim Phelps/Elwyn Manuel enjoyed a good points-scoring run in their Britpart Ford Escort Mk2, while Kevin Metcalfe/Ian Jones were reported to have parked their BMW E30 on the apex of a hairpin on SS2.
Montgomery's Ricky Crone suffered electrical issues in his MS Textiles Ford Escort Mk2, which forced him to skip three stages in the morning. He and co-driver Ifan Devine re-joined in the afternoon, but with hefty penalties for missing SS2, 3 and 4 they were classified last.
Gareth Edwards had taken two years to build his Ford Escort Mk2 and with fellow Caernarfon man Ifan Rowlands alongside was going well until he stopped in SS5. Graham Palmer/Mike Webbs were also going well in their PGM Caterham Specialist/Panel 2 Paint Ford Escort Mk1 but stopped on the next stage.
Defending class W12 champions Andrew Fox/Jaime-Lee Fox from Newport made a winning start to the season with a great run in their Xwatch Safety Solutions BMW 325, while Dan Chester/Paul Barbet finished second in their BMW E30.
Having rallied an historic Mini before, Tim Green/Jordan Davies had a great run to third in class in their first event in a modern Mini Cooper S - while David Howell Jones/Glyn Price managed to change a puncture before SS1 and came home fourth in what was the 100th rally for the Tanner's Arms/GJ Price Transport BMW E30 and crew together.
Gethin Price had spent the last six months repairing his RKP Haulage Nissan Micra, having rolled it last time out on Rali Ceredigion. The Machynlleth driver was on a road section to a stage when he was hit head-on by other competitor travelling in the oppositive direction. With front panel damage, he and co-driver Steven Brown continued and were rewarded with a class W2 win.
Tony Simpson all-but wrapped up the class W4 win with a tremendous drive in the morning in his Seacon UK Ford Fiesta R2T and spent the afternoon making sure he didn't throw away his advantage - although losing third gear on the final stage made the last few miles a little difficult. He was co-driven for the first time in 11 years by Glynn Thomas, who stepped in at the last moment.
Alex Cannon was contesting his first gravel rally for over 10 years and with Alan Carfree on the notes finished second in class W4 in his Rallyworld Ford Fiesta R2.
Prestatyn's Adam Clews was enjoying his first event in a Ford Fiesta R2, but he and co-driver Mark Thomas were forced to retire the car when a fuel pump problem was discovered in service.
Wrexham's Dan and Cyril Jones had a few moments in the morning and clipped a bale in the afternoon but survived to win the Hockly Motorsport-backed class W10 in their Jones Brothers/North Wales Joinery Vauxhall Nova. Defending class champions Martin Walters/Marie Fletcher admitted to making a slow start but came home an untroubled second in their Digger Parts Direct Honda Civic, while Michael Jenkins/Sophie Buckland had to nurse their Ignition Motorsport Ford Fiesta to the finish after picking up a strange vibration.
The live streaming coverage from Rally North Wales remains available to view on the Pirelli Welsh Rally Championship and Special Stage TV Facebook pages.
Round 2 of the Pirelli Welsh Rally Championship is the Rallynuts Stages on Saturday 15 April, which is based at the Royal Welsh Showground in Llanelwedd.
2023 Get Jerky Rally North Wales - top 10 Motorsport UK Pirelli Welsh Rally Championship finishers:
1. Matthew Hirst/Declan Dear (Ford Fiesta R5+).......48mins 27secs
2. Richard Gough/Paul Morris (Ford Escort Mk2).......52mins 06secs
3. Richard Jordan/James Gratton-Smith (Ford Escort Mk2).......52mins 18secs
4. Simon Rogers/Jack Bowen (Mitsubishi Evo6).......52mins 33secs
5. Rudi Lancaster/Guy Weaver (Ford Escort Mk2).......52mins 45secs
6. Martyn Andrews/Steve Greenhill (Subaru Impreza).......52mins 48secs
7. Wug Utting/Bob Stokoe (Subaru Impreza).......52mins 50secs
8. Alan Walker/John Connor (Ford Escort RS1800 Mk2).......52mins 52secs
9. Boyd Kershaw/Keegan Rees (Ford Escort Mk2).......53mins 17secs
10. James Lepley/Simon Jones (Ford Escort Mk2).......53mins 27secs


2022 Motorsport UK Pirelli Welsh Rally Championship
Overall drivers' points after Round 1:
1. Matthew Hirst.......30pts
2. Richard Gough.......27pts
3. Richard Jordan.......25pts
4. Simon Rogers.......24pts
5. Rudi Lancaster.......23pts
6. Martyn Andrews.......22pts


Images https://paulmitchellphotography.zenfoliosite.com/home