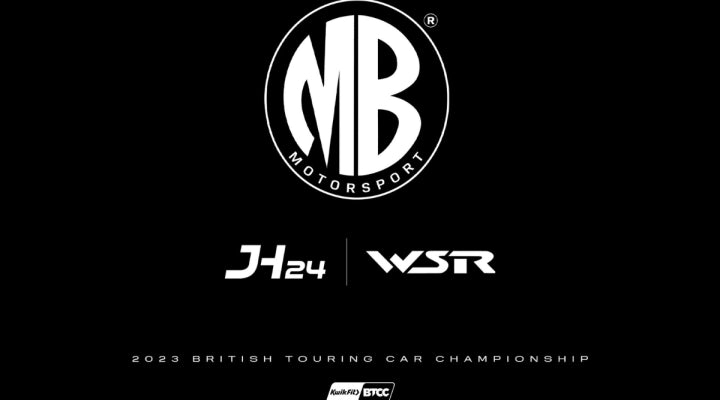 HILL AND MB MOTORSPORT TEAM UP WITH WSR AGAIN FOR 2023 TITLE ASSAULT
MB Motorsport and BTCC title challenger Jake Hill have announced that they will once again be teaming up for another assault on the British Touring Car Championship in 2023.
Building on last year's success with 16-time BTCC Teams' Champions WSR, Hill and MB Motorsport will be taking to the grid once again in a BMW 330e M Sport looking to better last year's career-best third-place finish in the Drivers' Championship.
Having led MB Motorsport's on-track efforts since 2020, Hill will be pairing up with the team for their fourth consecutive season together as they look to continue their year-on-year progression. The season just gone marks Hill's, and the team's, most successful to date with the 28-year-old delivering a standout performance, claiming three race victories, 13 podiums, two pole positions, and five fastest laps – including setting new lap records at both Donington Park and Silverstone. In addition to this, the Kent-based driver claimed the Goodyear Wingfoot Award as the best qualifier in 2022.
The upcoming campaign will mark the first time that the driver-team combination of Hill and MB Motorsport will embark on consecutive campaigns in the same machinery. Having enjoyed a memorable debut in the rear-wheel drive BMW that took him so close to the title last time out, Hill is thankful for the consistency that the MB Motorsport and WSR partnership will provide him heading into 2023.
"I really am over the moon to get everything signed, sealed and delivered so early looking ahead to the 2023 season," said Hill. "I'm very grateful for the continued support and faith that MB Motorsport have shown in me since 2020 and I have no doubt that we will be taking our BMW 330e M Sport back to the front of the grid once again thanks to our partnership with WSR.
"For me, last year felt like a year where I truly arrived in the Championship. To be able to have that consistency in our programme heading into 2023 can only be a huge help, for what will be a first for me in my time in the BTCC. There's no hiding from what our aim will be heading into the new season – it's now a case of getting our heads down and getting to work."
Mark Blundell, Sporting Director of MB Motorsport, is equally pleased to see the team's programme running once again in 2023, aided by the on-track efforts of Jake and WSR.
"Last year was a really memorable one for our growing organisation and we were so close to that perfect conclusion to the season at Brands Hatch in October," he said. "Everyone knows how highly I rate Jake and there is no better organisation than WSR to be spearheading our title assault – we are very pleased to be continuing to work with them both."
"We like to approach things differently as an organisation and we've shown constant progression every year we have been in the BTCC as a result – a championship that really is going from strength to strength. That is only possible thanks to an incredibly engaged and committed group of partners that we are lucky to have and I thank them all for their support."
Managing Director and Team Principal of WSR, Dick Bennetts, is delighted to be continuing to work with MB Motorsport and Hill after a memorable debut campaign together in partnership.
"Working alongside Jake and the MB Motorsport team was a new arrangement for us this year and it was a very successful debut campaign. Jake has proven himself to be one of the most skilled and committed competitors in the field and we look forward to helping him continue his development."
"We have a very strong relationship with Mark Blundell and his team and this has only strengthened after working together in 2022. We have very high hopes for what can be achieved together as we look ahead to the new season."
The BTCC uses a sustainable control fuel supplied by Vital Equipment Ltd.