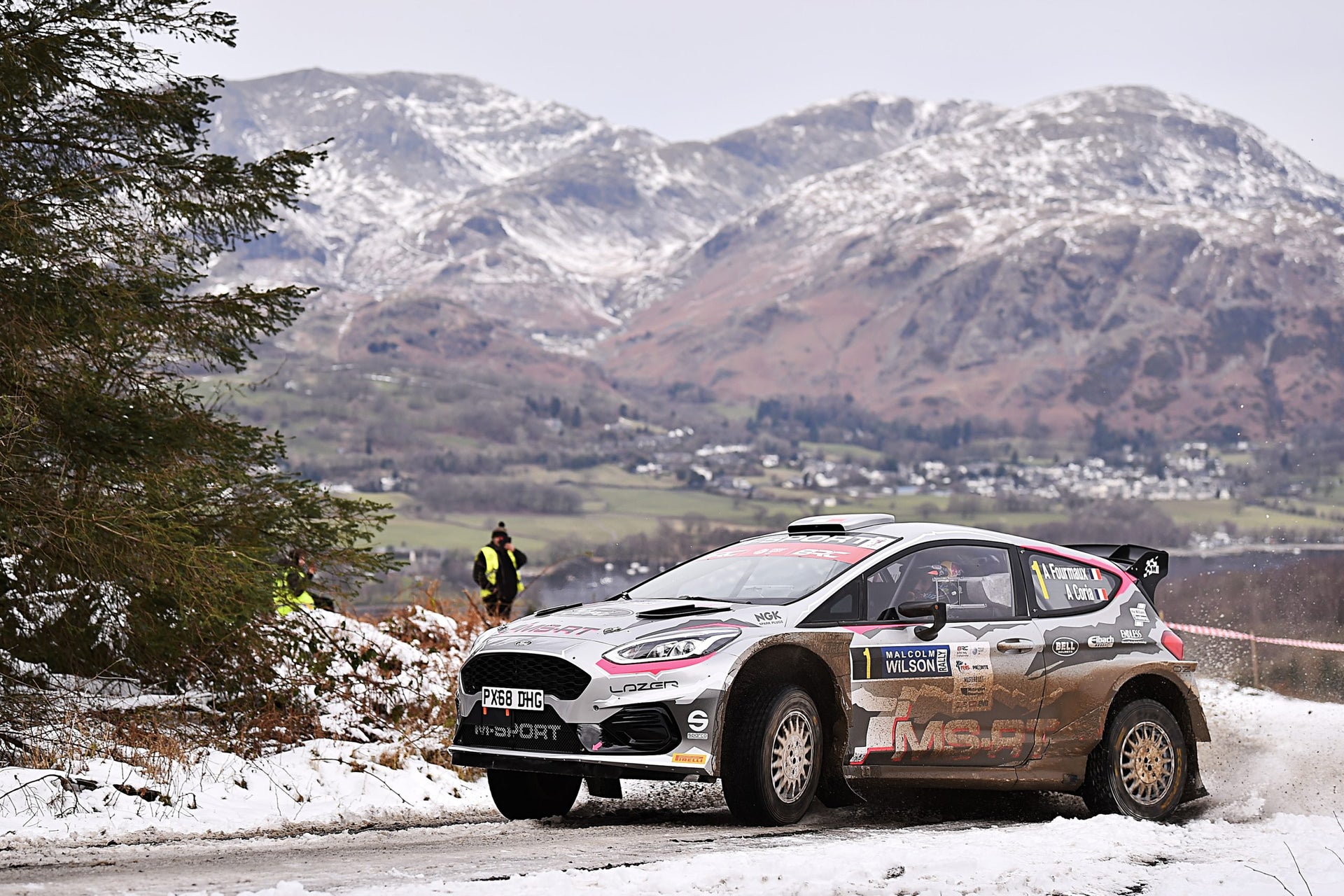 FAST FOURMAUX STORMS TO OPENING ROUND BRC VICTORY
M-Sport factory driver Adrien Fourmaux stamped his mark on the Carless fuelled Motorsport UK British Rally Championship on Saturday [11 March], by taking victory at the opening round of the 2023 season, The Malcolm Wilson Rally.
In difficult conditions, Fourmaux and co-driver Alex Coria took their Pirelli-shod Ford Fiesta Rally2 to a convincing victory in the snow-laden Cumbrian stages, finishing 53 seconds ahead of last-years BRC runners up Keith Cronin and Mikie Galvin. Elliot Payne and Tom Woodburn delivered an impressive drive in their Fiesta Rally2, recording their debut BRC podium in third.
Based at the home of the M-Sport Ford World Rally Team in Cockermouth, the Malcolm Wilson Rally was set to take a new generation of top-flight BRC1 contenders into classic stages in the Lake District forests and kick start the new season with the ultimate gravel test.
But mother nature delivered a cruel blow in the 48 hours ahead of the event, with heavy snow severely impacting access to the stages, leaving the organisers no choice but to significantly alter the itinerary just hours ahead of the rally start as the planned eight stages became five.
Fourmaux, who mounted his inaugural BRC campaign in the search of seat time outside of his World Rally Championship campaign with the M-Sport squad, took the stages in his stride and professed to find the classic Grizedale loop once of the nicest forest stages he encountered.
And the Frenchman had a right to be upbeat, setting fastest time on three stages and a time 17 seconds quicker than anyone else over the first Grizedale test, Fourmaux kicked off his BRC campaign in fine style and was understandably delighted with the win.
"It has been really good fun; a really nice experience this morning with some tricky conditions" said Fourmaux.
"These stages are beautiful and are amazing to drive. Perhaps not so easy with the ice and snow first thing, but these last two passes of Greystoke were just muddy and it was just great fun. Now we are heading off to Mexico which is where I last drove this car on gravel".
"I had no test before today, so this morning's first Greystoke stage was my first time back in this car for twelve months. Of course, I am happy with a win, yes".
However, it could have easily been a different story as crews emerged from the opening Greystoke stage, it was James Williams who was out front, but only by a tenth of a second. Williams and co-drover Dai Roberts adapted to their new Michelin-rubbered Fiesta Rally2 with ease, giving Fourmaux and the chasing pack something to think about over the following Grizedale stages.
Cronin didn't quite feel at home in his Volkswagen Polo GTi on the first pass of Greystoke but was third and his troubles were amplified in Grizedale, catching the Rally1 Puma of WRC driver Jourdan Serderidis and dropping a chunk of time. Fastest time over the next test showed the intent was there, but power steering issues in his Volkswagen Polo GTi hampered a chargeback. Second place was a solid start to his fifth title chase.
Despite electing not to carry out pre event recce, Elliot Payne returned a sensational drive in his Fiesta Rally2 to round out the podium spots. A cautious approach to the Grizedale loop ensured he was well placed to take advantage from other misfortunes, and he did just that, taking third and his first ever BRC podium.
The battle between fourth and sixth was a fascinating watch over the final two tests of the rally in Greystoke. With the ice now thawed, it was maximum attack from all sides and the biggest climber was stage one victor, Williams. A puncture in Grizedale dropped him down to sixth but a fight back ensued over the mud strewn tests and the young Welshman hauled his way back to fourth by the finish.
Callum Black was back in the BRC for the first time since 2014 and brought his Fiesta Rally2 home in fifth spot with Jack Morton on the notes. Using some new rubber for the first time meant he would pick up the pace as the day progressed and battled with returnee Garry Pearson in the Hankook backed Skoda Fabia.
Pearson suffered clutch woes on the longest test which hampered progress, but he and Hannah McKillop salvaged sixth. Eamonn Kelly wasn't enjoying the conditions over the morning stages and lacked the confidence to push, but took seventh in his Polo with Conor Mohan on the notes, ahead of Hugh Bruton and Drew Sturrock. Allen Dubasu claimed his first BRC finish with a solid run his his Fiesta Rally2 with Max Freeman alongside.
In the classes, Johnnie Mulholland gave the Fiesta Rally3 its BRC debut and despite a snapped alternator belt, ensured he and Eoin Treacy brought home the category silverware. Meanwhile Steve Waugh and Mark Broadbent's British Rally Championship debut went their way with a BRC4 finish in their Fiesta R2T.
The Junior British Rally Championship battle was just as intense over the opening stage, with just three seconds separating the rapid youngsters. Kyle White was out front in the Peugeot 208 Rally4 and there he would stay for the duration of the event as he and co-driver Sean Topping took the second Junior win of their careers.
Even a broken shock absorber on the Peugeot couldn't stop them and despite last year's Academy Trophy Champion Kyle McBride firing in two fast stage times in the closing stages, White could not be caught.
McBride and Liam McIntyre took the runner up spot in their Fiesta Rally4 whilst Casey Jay Coleman and Adam Coffey rounded out the podium spots.
Now the British Rally Championship switches its focus to asphalt and the first of four back to back asphalt events, as the Jim Clark Rally in May takes crews to the rapid closed road stages of the Scottish Borders.