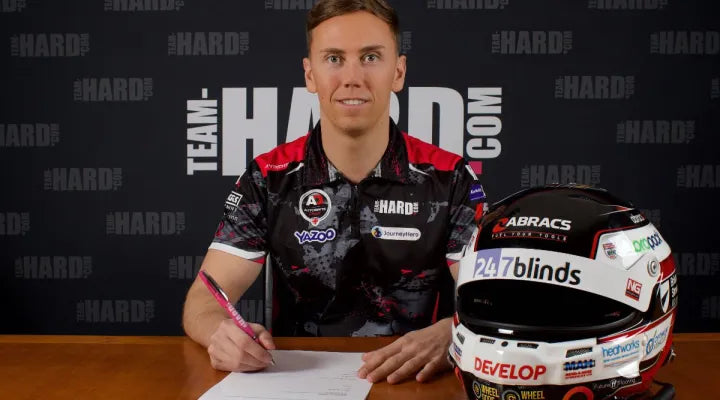 DANIEL LLOYD SIGNS TEAM HARD DEAL FOR 2023 BTCC CAMPAIGN
Daniel Lloyd has his sights firmly set on challenging for Independents' honours in the 2023 Kwik Fit British Touring Car Championship after confirming his place on the grid with Team HARD Racing.
The 30-year-old from Huddersfield will contest his third successive campaign looking to build on his best season to date, where he produced a number of impressive drives in an EXCELR8 Motorsport-run Hyundai.
Despite a huge accident in the fourth meeting of the year almost ending his season early, Daniel fought back to secure three race wins, a new personal best points score and a top-ten championship finish for the first time.
Having evaluated his options for the new season, Daniel has now agreed a deal that will see him pilot one of Team HARD's Cupra Leons over the course of the 2023 season, which will get underway at Donington Park in late April.
The Cupra is one of the newest cars in the BTCC having joined the grid in 2021 and has gone on to score podium finishes in the hands of both Jack Goff and Bobby Thompson.
Daniel's race-winning experience – and extensive knowledge of competing in a range of front-wheel drive touring cars – will be pivotal in helping the team to turn the Cupra into a regular front-runner in the highly competitive field, and comes on the back of the team signing experienced engineer Kevin Berry to lead the ongoing development of the car going into 2023.
Daniel Lloyd, Team HARD Racing driver, said: "Having looked at the various options elsewhere on the grid and having spoken to a number of teams, I'm really excited to have agreed a deal to join Tony [Gilham] and Team HARD. I was really impressed with what the team achieved with Bobby [Thompson] this year, and the steps forward they have taken in recent seasons. I'm looking forward to the challenge of helping them to continue making forward progress with the Cupra during the year ahead.
"The fact that they have someone with the knowledge and experience of Kevin Berry to head the engineering team is a major plus point for me, as is the fact that I'm going to have a top-class engineer on my car in the shape of Adam Tanner, who I worked with successfully during my time with Eurotech.
"With a strong pit crew around me, I feel the ingredients are in place to build something good in 2023, and I'm confident of another strong season on track."
Tony Gilham, Team HARD Racing owner, said: "This is a major coup for us. Dan did a fantastic job last season and was a real thorn in our side at the start of the season as he and Bobby seemed to be glued together.
"When I heard that Dan might be available to take over the wheel of one of our Cupras for 2023, it was an easy decision to get him into our camp for this season.
"Behind the scenes, our BTCC project is really starting to move through the gears and this acquisition is another demonstration of how far we have come as a team over the last two to three seasons. There is a great buzz in camp, and we are all delighted to have Dan join the team."
The BTCC uses a sustainable control fuel Carless Racing Fuels.