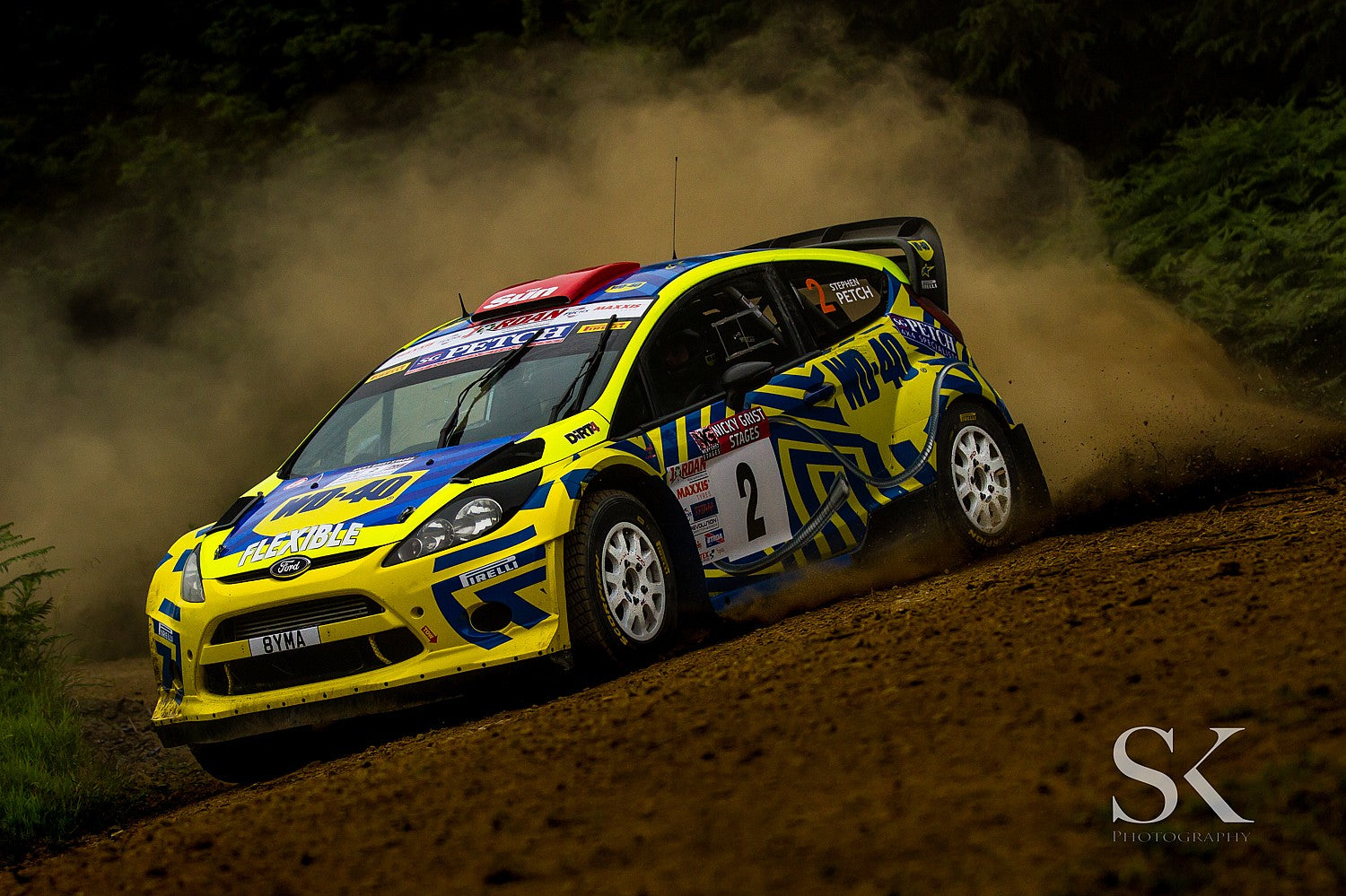 BTRDA Rally Series On The Horizon
The 2022 BTRDA Rally Series is just over a week away,  This season the Malcolm Wilson Rally will open the championship and a glance at the unseeded list of entries for the event shows that there is a couple of returning ex-
Ellliot Payne / Patrick Walsh (Fiesta Rally2)  
champions returning – Stephen Petch / Michael Wilkinson (2017) and Charlie Payne / Carl Williamson (2016) who are maintaining their allegiance to Ford Fiestas and are set to be joined by the likes of Elliot Payne / Patrick Walsh, Perry Gardener / Jack Bowen, Matthew Hirst / Declan Dear and multiple former Asphalt Champion Damian Cole in similar cars.                                                                                                     
Hoping that a R5 Skoda Fabia can maintain its winning streak at this level are Ian Bainbridge / Will Atkins (see main photo) while John Wink / Neil Shanks (Hyundai i20) and a returning Tom Llewellin / Ross Whittock (Mitsubishi Mirage) will each be harbouring thoughts diametrically opposed to those!… A further brace of Fiesta R5's in the hands of Trevor Gamble and Eddie Lewis are joined by a second Hyundai for one-time Mitsubishi Group N front-runner Roland Llewellin.  It seems as if the B13 class will be more competitive than ever with Richard Hill, Russ Thompson, Ian Joel, Peter Bayliss and Pat Naylor being joined by many more competitive Subaru's and Evo's.
When it comes to the two-wheel drive brigade, contenders for last year's MRF Tyres Silver Star Championship were often also chasing Jordan Road Surfacing BTRDA Historic Cup points and, on occasions, the BTRDA R2 & R2 Junior Cup as well!  Owen McMackin's big-engined Escort eventually prevailed and, while the Irishman is unable to contest the opening round of the 2022 Series, the defence of his title is expected to begin shortly.  Having had a season to forget last year, Andy Davison and Tom Murphy – who were Silver Star runner-up and Champion respectively in 2019 – are back with their rapid Talbot Sunbeam VXR.  2.5 litre Escorts are the order of the day for Rob Wright / Mark Fisher and Terry Pankhurst / Jamie Sparks, while Nick Dobson, Neil Andrew and James Lepley – younger brother of George – are pinning their hopes on smaller capacity versions.
Rob Wright / Mark Fisher
(Ford Escort Mk2)  
While on the subject of families, 2021 BTRDA Rally First Champion Tom Naylor – son of former BTRDA Production Cup winner Pat Naylor, who is now running his Mitsubishi Lancer in Class B13 – is moving on to a 2-litre Fiesta ST in an attempt to wrest the Silver Star trophy from the rear-wheel drive contingent but the favourite for that task may be Max Utting in his Fiesta ST MAX.  As far as the R2's are concerned, both 'Senior' & Junior, it's encouraging to see the variety of different manufacturers producing cars that fit the bill. In addition to Fiestas for Billy Grew / Simon Rogers, Tony Simpson / Ian Bevan, Yaniv Bar / Osian Owen and Jonathan Jones / Jez Rogers, we have Lucy Wigley / Emma Cooper's Citroen C2 and a Peugeot 208 for Scott & David Sloan.
 Baz Jordan / Arwel Jenkins (Hillman Avenger)
Long-time BTRDA Rally Series supporters Baz Jordan / Arwel Jenkins are back in their Historic spec. Hillman Avenger to do battle with, among others, David Gathercole / Martyn Donn's MkI
Escort. An interesting addition to the ranks of this year's BTRDA Historic Cup contenders is the Datsun 1600SSS of Glyn Thomas / Alex Waterman.
The Fuchs Lubricants BTRDA 1400 Championship, the winners of which are awarded BTRDA Bronze Stars, has become renowned for the out-and-out speed and level of competitiveness exhibited by contenders for the title!  One should never be fooled into thinking that, as the cars are only 1400cc, there's 'nothing to see here'!  Some years ago Elfyn Evans joined in at the wheel of a Nissan Micra and triple British Rally Champion Matt Edwards won the series outright in 2010 in an MG ZR!
The 1400 Championship is another element of the BTRDA Series that attracts a wide range of cars to its ranks.  At the time of writing – and in no particular order – entries have been received from Edward James (Nissan Micra Kit Car), Paddy Homan (Ford Puma), Aaron Rix (Ford Escort), Kris Farrell (Proton Satria) and Pete Gorst & Dave Brick (both Vauxhall Novas).
Adrian & Matt Walk (1400cc Ford Ka)
The aforementioned speed of these cars, not unsurprisingly, caused dramas on occasions leaving crews to reflect on the old adage that 'to finish first, you must first finish'! 'Keeping their heads while those around etc etc.' paid dividends for Adrian & Matt Walk during 2021 as their 1400C Ford Ka came out on top of the category on the Woodpecker Stages and 2nd on the Cambrian Rally. They're back for more of the same and will have a number of Nissan Micra's and the Talbot Samba of Mat & Dan Evans for company.
Our refuel team will be attending all BTRDA Rally Series events with our refuel service which will begin at the Malcolm Wilson Rally.  If you would like to order super unleaded or racing fuel to be dispensed straight from our refuel station you can place the order via this form:
https://www.vitalequipment.co.uk/pages/btrda-rally-series-fuell-order-form
or you can contact us by: 01981 241169 or info@vitalequipment.co.uk
All photos © Kevin Money & Malcolm Almond