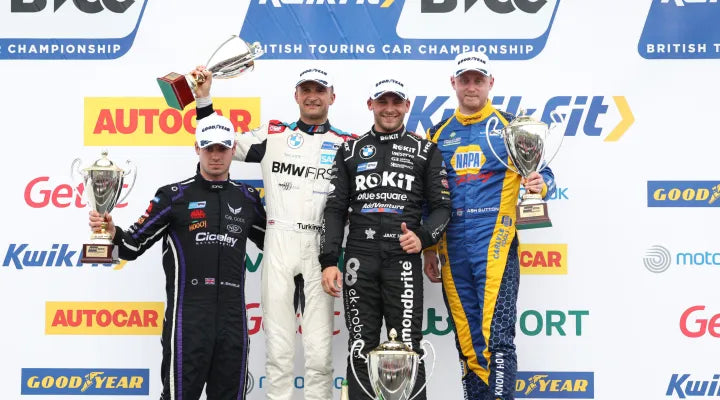 BTCC THRILLS AT KNOCKHILL
BTCC returns with action-packed weekend at Knockhill 
The Kwik Fit British Touring Car Championship returned following its annual mid-season break with an action-packed weekend of phenomenal racing at Knockhill (30/31 July). 

The BTCC's big hitters cranked up the race for this year's title as ROKiT MB Motorsport's Jake Hill and NAPA Racing UK's Ash Sutton claimed a win apiece before Car Gods with Ciceley Motorsport rookie George Gamble took a hugely popular triumph in the finale. 

With the UK's premier motorsport series again enjoying increased coverage on ITV, the tens of thousands of fans at the circuit and the many more watching on television were treated to three thrilling encounters. 
Hill won a modern-day classic after eventually getting the better of reigning champion Sutton in the curtain-raiser at the popular Fife circuit. 

It was status quo off the start line as pole-sitter Hill held on for much of the opening lap, although it was anything but thereafter as Sutton produced a startling move at the beginning of the second tour. 

With the rear-wheel drive cars notoriously taking slightly longer to bring their front tyres up to racing temperature, Sutton knew his hopes rested on taking an early opportunity as he blasted around the outside of the #24 BMW through turn one. 

The pair remained inseparable during the opening exchanges – with the Team BMW duo of Colin Turkington and Stephen Jelley looking on immediately behind – but contact was to follow in the fight for victory. 

Sutton was heavy onto the brakes going into the hairpin on lap five, whilst Hill misjudged slightly and hit the leader's Ford Focus in the rear, as the scrap continued into the next phase of the race. 

The two took the battle up a further notch on lap eight as they swapped places twice, but the faster BMW of Hill eventually got the job done shortly before mid-distance to take his second win of the season. 

Sutton's defensive drive was far from over, however, as he was again hit from behind – this time by Turkington – as the former held off his old rival until the finish. 

NAPA Racing UK then scored its first-ever win in the BTCC as the competition between Sutton and Hill intensified in the second encounter. 

Hill made a solid start and edged away from the chasing pack, before the young Kent driver ran wide on the exit of the chicane and handed Sutton the advantage. 

A further mistake followed by Hill, which allowed his Team BMW stablemate Turkington through and into second. 

Both WSR drivers mentioned post-race that the rear end of their respective BMWs ran loose in the latter stages of the contest, and when Turkington overshot turn one as the race wore on it allowed Hill back through into second. 

Hill hauled Sutton's Ford Focus back in and had one last attack out of the final hairpin as the pair made contact again, with the latter eventually crossing the line just 0.141s ahead of the former. 

Turkington completed the podium for a second successive race, ahead of Bristol Street Motors with EXCELR8 TradePriceCars.com's Tom Ingram. 

Rookie Gamble then produced a dominant lights-to-flag display to claim a maiden triumph as an amazing day of action came to a close. 

Not only did Gamble take the victory, but he did so by seeing off a number of experienced multiple race winners behind him. 

Hill completed his own impressive day with second as he fought back from an early mistake to get back by the likes of Sutton, Turkington and Rory Butcher. 

Toyota GAZOO Racing UK's Butcher enhanced the champagne celebrations as he took a podium in front of a passionate home crowd. 

Turkington's consistency throughout the day was rewarded with the Standings lead as he now holds a five-point advantage over Ingram, with Sutton nicely poised in third. 

High-scoring BMW edged further clear in the Manufacturers'/Constructors' order, whilst Bristol Street Motors with EXCELR8 TradePriceCars.com held on to the top spot in the Teams' table. 

Josh Cook and Rich Energy BTC Racing hold sway in the Independents' Championships despite a challenging weekend. 

Gamble claimed JST honours in all three races today, but still trails Bobby Thompson in the overall race for the Jack Sears Trophy. 

The 2022 Kwik Fit British Touring Car Championship returns at Snetterton in two weeks' time (13/14 August). 

Jake Hill said: "It was a pretty frantic start to the race! We always struggle with those first few laps with our front tyres and Ash [Sutton] did a great move into turn one and got it done. I stayed with him for a couple of laps and the car just came alive. It was on fire at that point. So much speed underneath me. So obviously I got after Ash again and it was hard, I didn't mean to hit him into the hairpin, he braked so early, and I just couldn't stop the car so I just ran into the back of him. Ultimately, I didn't gain anything from that, but I was able to make my move a couple of laps later and got to take my win. 

"A nice little fight with my team-mate Colin [Turkington] in race two, he just ran wide and I got past him to take second. I'm still pleased with second, it's great for BMW and obviously for myself and ROKiT MB Motorsport, so I'm still pleased, but I'm a little bit happier after that last one! A fantastic result.

"We've been very quick this weekend there's no two ways about it. I got my mojo back. After lap three [of race three], I was really on it again and I was catching Colin, Rory [Butcher] and George [Gamble] quite quickly. And they were good enough to let me have a go and obviously try and get past Rory. I'm just thrilled with this weekend and now we're only 14 away from the championship lead now which is a massive bonus." 

Ash Sutton said: "I tell you what, I think I need to see a chiropractor after that one! We picked up a little bit of damage with the big contact from Jake [Hill] into the last corner and then that topped off by Colin [Turkington] as well. I gave it my best and took it to him at the start. Ultimately, did we have enough to put it up there at the end, probably not. Jake [Hill] looked strong, he looked strong in qualifying. I accepted my battle with that one and focussed on Colin. 

"Race two was made a little bit easier with Jake's [Hill] mistake at the chicane, I think he was just trying to match what we were capable of doing through there and that's been our strongest area all weekend, so I just focussed on that and gave it full send on every lap. Jake really honed us in and tried to put an attack on the start/finish line, but I wasn't letting that one go! I'm just pleased that I can get the first win for NAPA Racing UK." 

George Gamble said: "Unbelievable! I've not raced for a couple of years, and it's been such a journey to get back racing. I was so emotional on the in-lap, this is something I've dreamed of since I was 14 in Ginetta Juniors, to win a race in the BTCC. I just can't thank everyone involved enough. The team, the sponsors, everyone that made this happen. I really wouldn't be standing here without you. 

"I think up to the last lap I was a bit cautious, I could feel the tyres going and the brakes and I didn't want to make a silly error. But if you were to picture your first race win, that's exactly how you'd want it and what a feeling, I can't believe it. Unbelievable. 

"We opened at Donington Park with a podium and just had a couple of rounds with bad luck, through no fault of anyone's, but all day we've been strong. We've got two independent wins, a fifth and a seventh and then an overall win, Jack Sears and Independents' in the last race so I've got three trophies and it's unbelievable." 

2022 Kwik Fit British Touring Car Championship – Race 1 – Knockhill

1.       Jake HILL (GBR) ROKiT MB Motorsport 24 laps
2.       Ash SUTTON (GBR) NAPA Racing UK +3.640s
3.       Colin TURKINGTON (GBR) Team BMW +3.784s
4.       Stephen JELLEY (GBR) Team BMW +5.979s
5.       George GAMBLE (GBR) Car Gods with Ciceley Motorsport +6.363s
6.       Tom INGRAM (GBR) Bristol Street Motors with EXCELR8 TradePriceCars.com +6.933s
7.       Gordon SHEDDEN (GBR) Halfords Racing with Cataclean +13.008s
8.       Rory BUTCHER (GBR) Toyota GAZOO Racing UK +13.984s
9.       Dan CAMMISH (GBR) NAPA Racing UK +14.242s
10.     Ricky COLLARD (GBR) Toyota GAZOO Racing UK +14.381s

2022 Kwik Fit British Touring Car Championship – Race 2 – Knockhill

1.       Ash SUTTON (GBR) NAPA Racing UK 26 laps
2.       Jake HILL (GBR) ROKiT MB Motorsport +0.141s
3.       Colin TURKINGTON (GBR) Team BMW +0.758s
4.       Tom INGRAM (GBR) Bristol Street Motors with EXCELR8 TradePriceCars.com +3.969s
5.       Gordon SHEDDEN (GBR) Halfords Racing with Cataclean +10.196s
6.       Rory BUTCHER (GBR) Toyota GAZOO Racing UK +11.269s
7.       George GAMBLE (GBR) Car Gods with Ciceley Motorsport +11.567s
8.       Stephen JELLEY (GBR) Team BMW +12.425s
9.       Dan CAMMISH (GBR) NAPA Racing UK +14.629s
10.     Tom CHILTON (GBR) Bristol Street Motors with EXCELR8 TradePriceCars.com +15.318s


2022 Kwik Fit British Touring Car Championship – Race 3 – Knockhill

1.       George GAMBLE (GBR) Car Gods with Ciceley Motorsport 24 laps
2.       Jake HILL (GBR) ROKiT MB Motorsport +4.332s
3.       Rory BUTCHER (GBR) Toyota GAZOO Racing UK +7.357s
4.       Colin TURKINGTON (GBR) Team BMW +7.883s
5.       Ash SUTTON (GBR) NAPA Racing UK +8.503s
6.       Gordon SHEDDEN (GBR) Halfords Racing with Cataclean +8.971s
7.       Stephen JELLEY (GBR) Team BMW +9.143s
8.       Josh COOK (GBR) Rich Energy BTC Racing +13.901s
9.       Tom CHILTON (GBR) Bristol Street Motors with EXCELR8 TradePriceCars.com +16.516s
10.     Aiden MOFFAT (GBR) Laser Tools Racing +18.437s