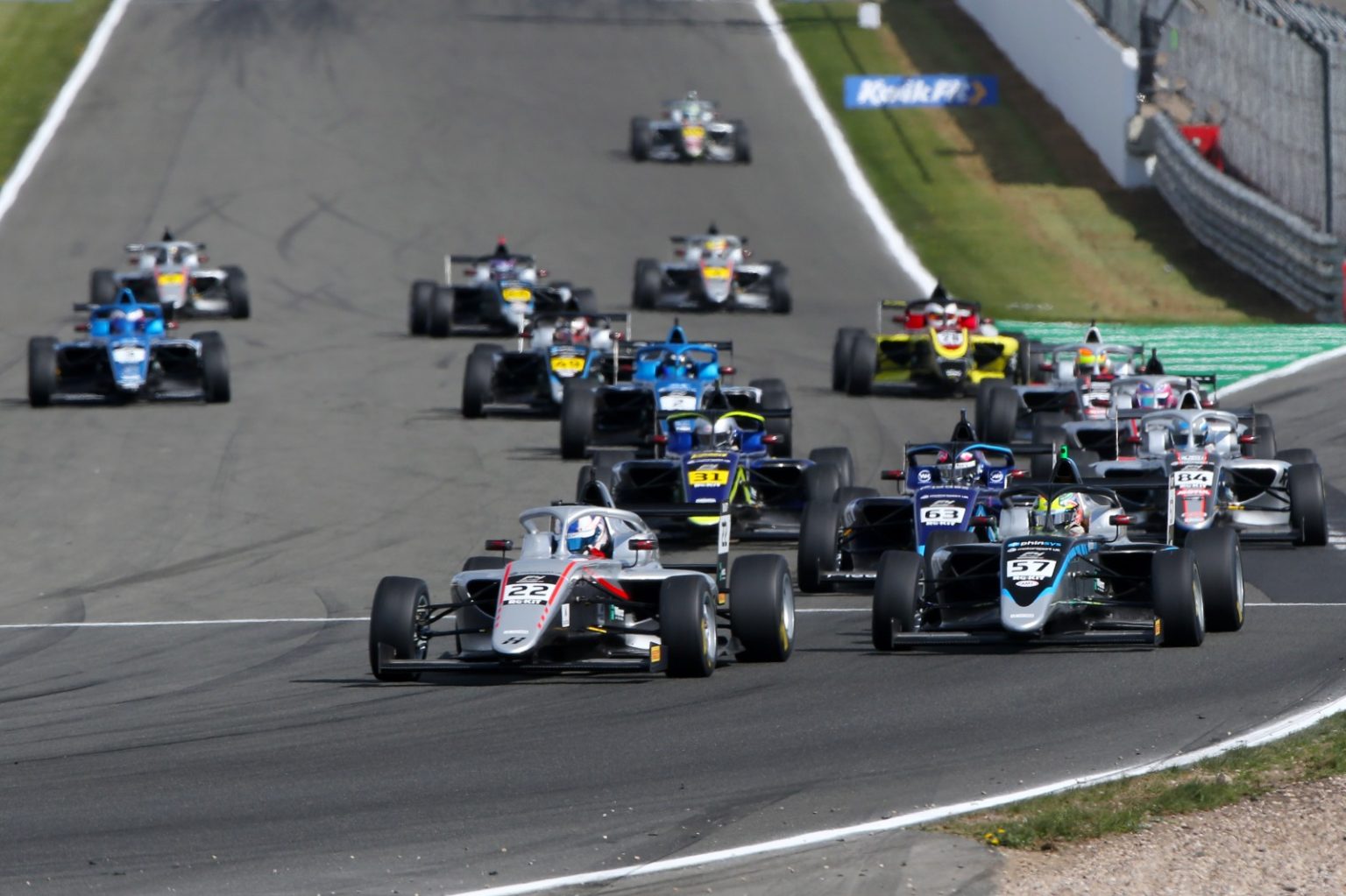 Alex Dunne throws down early gauntlet with lights-to-flag victory
Alex Dunne marked his card as an early championship contender with a controlled, lights-to-flag victory in the final ROKiT F4 British Championship certified by FIA race of the weekend at Donington Park which saw the introduction of a sustainable race fuel from Carless Racing Fuels. 
The pole-sitter was forced on the defensive by a fast-starting Aiden Neate (Phinsys by Argenti), but successfully held the inside line into Redgate, and from there he was able to escape up the road, building up a 6-second winning margin by the chequered flag.
The result extends Dunne's early advantage in the overall championship standings to 37 points over Carlin's Oliver Gray, who finished third after being similarly kept at arm's length by Neate. Second spot for Neate marks a career-best result for the 15-year-old in his 30th start.
The most engaging battle on track the skirmish for fourth spot between Dunne's Hitech team-mate Eduardo Coseteng and the Carlin of Ugo Ugochukwu.
Having slipped back to sixth off the start, Ugochukwu rallied and re-passed Loake to move into fifth. He showed excellent one-lap pace to reel Coseteng in thereafter, but a stellar defensive drive by the Filipino racer ensured a clear opportunity to pass never presented itself to the McLaren junior behind.
Reverse grid race winner Georgi Dimitrov moved forward to sixth from the foot of the top ten but was forced to defend heavily in a near photo-finish with Virtuosi Racing's Edward Pearson. Michael Shin was next in the other Virtuosi challenger, the South Korean racer completing a hat-trick of points finishes on debut.
Loake eventually took ninth, besting Phinsys by Argenti's Daniel Guinchard by 0.7 seconds after a late-race battle, whilst Hitech's Oliver Stewart came out on top of a frenetic scrap with JHR's Noah Lisle and Chris Dittmann Racing's Joel Pearson in eleventh, twelfth and thirteenth respectively.
Daniel Mavlyutov was next, with Adam Fitzgerald finishing a lap down after being forced to pit early on with a damaged front wing after tagging the car ahead at Coppice.
After a three-week hiatus, Britain's FIA Formula 4 series heads next to Brands Hatch's Indy circuit over the weekend of 14-15 May.